Why Choose Artificial Grass for Your Backyard Putting Green
A backyard putting green is an ingenious addition for homeowners who love to spend time outdoors. If you've been thinking about enhancing your outdoor space with a custom backyard putting green, you have two options, artificial grass in Toronto or natural turf. For the ultimate golf experience, longevity, and functionality, luxury artificial putting green turf is the best choice. At Echoing Green, we design custom backyard greens with advanced features that outperform natural grass in virtually every way.
Explore the many reasons why artificial grass is the best choice for your home putting green.
Durability & Divot-Free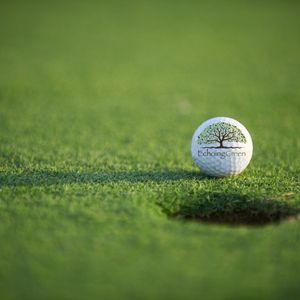 If you frequent golf courses around the city, you know firsthand how easily divots form in the turf with even the slightest swing of the club, forcing you to manually re-patch missing grass and first as you progress from hole to hole. In comparison, artificial putting green turf from Echoing Green is engineered for strength and longevity. The robust polyurethane backing holds each fibre tightly locked into place, preventing displacement or damage while playing. Because of the quality of our artificial in Toronto, your backyard putting green will last for decades, retaining its shape, ideal playing surface, and overall aesthetic appeal. Whereas natural grass requires heavy care, repairs, and maintenance.
No More Mowing
When practicing your putting, the length of the grass can interfere with your ability to play. The longer your grass grows, the slower the speed of your backyard putting green. With natural grass, constant mowing is essential to maintain the ideal green speeds. Daily mowing can be difficult for the average homeowner: it's both time-consuming, laborious, and resource-intensive. Furthermore, just one mistake with the mower, cutting your grass too short, could leave your backyard putting green out of commission and even burnt by the sun. When you opt for an artificial grass putting green instead, you won't have to worry about devoting hours to care and upkeep. You also won't have to stress about damaging your custom putting green.
Weather Resistance
Natural grass is incredibly susceptible to weather. Too much water from rainfall creates muddy, soft turf, and too much sun causes burnt, crisp grass. Because the weather in Southern Ontario is constantly fluctuating, it's in your best interest to invest in an artificial grass putting green designed to withstand Canadian climates, adapting to the various seasons. Our high-quality artificial grass is made with a superior permeable backing that efficiently drains water away from the surface and into the ground. Our experienced installation teams facilitate this excellent drainage with specialized techniques that supports water flow and minimizes backups or puddles.
Where traditional artificial grass had previously used only latex backings that would easily crumble in the cold, the advanced polyurethane backing adapts to Canada's freeze-thaw cycle to easily survive seasonal changes.
Mold & Pest-Free
Natural grass is prone to certain contaminants, such as mold and insects. Because natural grass environments are flush with organic materials from soil to the grass itself, and they tend to retain moisture, pesky insects such as fleas and mosquitoes often nest at the base of the grass. Artificial grass in Toronto keeps moisture to a minimum, and infill works to keep natural invaders at bay. The opportunity for mold and insects is reduced significantly, protecting the integrity of your personal putting green and the entire backyard environment.
Customize Your Artificial Grass Putting Green in Toronto
If you're ready to upgrade your backyard with a putting green, trust the team at Echoing Green. We offer exceptional, long-lasting putting green turf, engineered and manufactured to comply with the highest European standards. With many customization options available, you can work with our experts to design something entirely unique.