Why Bypass the Cost of a Lawn Irrigation System with Artificial Grass
A lush green lawn is an essential endeavour for many homeowners in the Toronto area. Unfortunately, with natural grass, perfectly green and healthy landscaping upkeep requires significant time, cost, and resource devotion. To facilitate the process, some property owners opt for installing lawn irrigation systems, but in most cases, more work is still needed to get the desired curb appeal. With high-quality artificial grass in Toronto from Echoing Green, you can skip the trouble of artificial grass maintenance and irrigation, saving time, money, and resources.
Read on to learn why you should bypass the lawn irrigation system.
Conserve Water Resources & Minimize Costs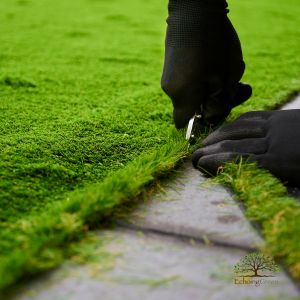 During the summer, Canadians spend hundreds of dollars every month on simply watering their lawn and installing built-in sprinkler systems to facilitate this process. Usually set on a timer, these irrigation systems run for a set period of time to promote green, healthy lawns. Despite the effort, these tools often don't generate the results property owners look for, costing them heavily on hydro bills and installation costs. Property owners can significantly save on watering costs by installing artificial grass in Toronto. Famously artificial grass maintenance is minimal, resulting in time and cost savings. By eliminating the need for constant irrigation, homeowners can cut down on water bills and contribute to water conservation efforts without compromising the beauty of their outdoor space.
Seasonal System Adjustments
As the weather and seasons change, lawn irrigation systems will typically need to be replaced to adjust to meet the needs of the grass at that point in time. This could include alternating scheduling, changing the water volume, or shutting the irrigation system off entirely. The modifications can be tedious, costly, and time-consuming. In some cases, it can result in damage to the infrastructure like pipes and gas lines which will require expensive and emergency attention. By opting for artificial grass installation, your grass will not need any water besides the occasional rinse, sparing you with the investment of an expensive and complicated irrigation system.
Rigid Scheduling
Lawn irrigation systems operate on pre-set schedules and patterns. This lack of flexibility may result in overwatering or underwatering certain areas of the lawn, depending on factors like soil type, sun exposure, or seasonal weather changes. Adjusting the system to address these variations can be challenging. On the other hand, artificial grass maintenance is virtually non-existent. Instead, synthetic turf landscaping thrives without sun, water, aeration, or fertilizers, taking the burden off the property owners.
Landscape Compatibility
Depending on the neighbourhood or location of a property, the landscaping and terrain irregularities may not support irrigation systems. This means relying on manual watering and mowing for those with natural grass. In sloped areas, the landscape can also increase wasted water, excess runoff, and even soil erosion, which, over time, negatively impacts the local ecosystem. Artificial grass can adapt to various terrain conditions. It can even be installed on surfaces other than dirt, giving property owners complete control of how they want their landscaping to look and function.
Explore the possibilities of artificial grass installation around your commercial or residential property with the leaders at Echoing Green.