Why Busy Professionals Embrace Artificial Grass Landscaping
Time is a precious commodity, especially for professionals busy with work, families, and social lives. The speed of day-to-day operations for the busy professional leaves people in search of new and innovative ways to simplify their lives and create low-maintenance solutions that help maximize free time and productivity while also enabling relaxation. Artificial grass in Toronto is a popular choice for individuals looking for a new way to cut stress and unnecessary time commitments from their lives. With expert artificial grass installation from Echoing Green, you can realize a variety of advantages that range from time savings to beautiful, long-lasting landscaping.
Explore the opportunities landscaping with artificial grass in Toronto offers busy property owners and professionals throughout the region.
Transforming Your Residential Spaces with Artificial Grass Installation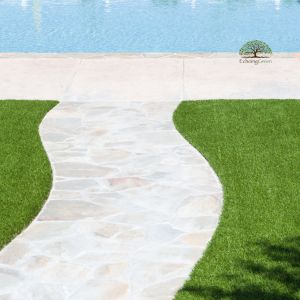 Artificial grass installation unleashes new opportunities for residential property owners. Depending on your style and your property, you can choose from a variety of custom options. Luxury artificial grass in Toronto from Echoing Green can be used in backyards (small or large), rooftops, terraces, balconies, decks, playgrounds, and indoor rooms. With skilled installation services from the experienced Echoing Green landscaping team, your artificial grass landscaping can be customized to fit any area of your property, transforming it into a stunning, low-maintenance oasis.
Easy Maintenance and Cleaning
One of the main reasons why busy professionals embrace artificial grass is the ease of maintenance and cleaning it offers. Unlike natural grass, artificial grass does not require mowing, watering, or trimming. This eliminates the need for time-consuming lawn care tasks, saving professionals precious hours that can be better utilized. Additionally, artificial grass is resistant to pests and insects, reducing the need for harmful chemical treatments. Cleaning artificial grass is also a breeze, as any debris or pet waste can be easily removed with a hose or rake. With artificial grass, busy professionals can enjoy a beautifully maintained lawn without the hassle of regular upkeep.
Enhanced Aesthetics
Artificial grass provides a lush, vibrant landscape that remains consistent throughout the year. Regardless of the season or weather conditions, artificial grass maintains its green and vibrant appearance, enhancing the overall aesthetics of the property. This consistency particularly appeals to busy professionals who value a visually appealing outdoor space but do not have the time to invest in regular lawn maintenance. With artificial grass in Toronto or any other location, professionals can have a picturesque and well-kept lawn without dedicating significant time and effort. Echoing Green is known and beloved around Canada for its exclusive European design and unbeatable texture.
Commercial Turf Applications
Beyond just residential turf, artificial grass can be used indoors and outdoors for commercial applications such as offices, hotels, retail stores, bars, gyms, event venues and more. Artificial grass installation on commercial properties offers professionals numerous benefits. The pristine, neat appearance of synthetic landscaping enhances the allure to potential customers. It saves time spent on cleanup and maintenance, so you can spend more time on sales and other business-related tasks.
Escape to Backyard Putting Greens
For golf enthusiasts among busy professionals, having a backyard putting green can be a dream come true. Custom backyard putting greens close resemble the real thing allowing you to arrive home from a busy day at work and play some golf without making the trip to a golf course or practice range near you.
Enable Ease with Pet Turf
While pet turf is aesthetically pleasing, installing artificial grass for dogs in your backyard, home, balcony, or condo creates a safe, comfortable, and enticing environment for pets while also allowing busy professionals to save time on trips outside while also minimizing wear and tear on natural landscaping. Whether it's energetic play sessions or constant foot traffic, pet turf can handle it all, maintaining its lush green appearance throughout the year.
Embrace Artificial Grass in Toronto with Echoing Green
With artificial grass installation from Echoing Green, you can revamp your landscaping or interior design with long-lasting, luxury artificial grass from Europe. The upgraded surface will deliver aesthetics and enhance time-savings. To learn more about your artificial turf options, talk to the Echoing Green team directly.