Who Should Purchase Wholesale Artificial Turf in Canada?
Buying any product or supplies wholesale is beneficial for businesses looking to support their product or service offering. And purchasing turf from high-quality artificial grass wholesalers like Echoing Green is no different. When businesses shop wholesale turf in Canada from Echoing Green, you get a fine selection of exclusive European grasses at affordable wholesale pricing.
Don't know if you should be purchasing from artificial grass wholesalers? Read on to find out.
Are You a Landscaper?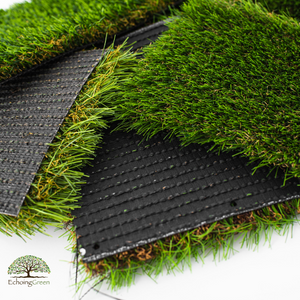 Wholesale artificial turf in Canada is perfect for residential and commercial landscapers looking to enhance the curb appeal with vibrant, long-lasting designs that can withstand the Canadian climate.
Up-and-coming landscape companies or existing businesses looking to make their foray into the artificial grass market should start with high-quality turf from trusted artificial grass wholesalers. The perfect synthetic turf depends on the property and your customers' needs. At Echoing Green, we stock a range of artificial grasses that suit specific applications from pet turf and putting green turf to low traffic landscaping turf and kid-friendly turf. When you order from us, you can mix and match your order to have sufficient quantity and a variety of grasses to serve any customer for any type of application.
Are You a Landscape Supply Store?
If you're running a brick-and-mortar shop or an online landscape supply store, stocking wholesale artificial turf in Canada can get you ahead of the trend. With few supply stores in stock with synthetic turf that functions and feels like natural grass, becoming a well-stocked supply store will make your shop the go-to place for artificial turf. Not only can you supply artificial turf, you can also get your hands on installation accessories when you shop wholesale artificial turf in Canada. The Echoing Green online store has all the other materials, and tools landscapers need for artificial grass installation in Toronto and elsewhere in Canada. All you have to do is log into your laptop, tablet, or smartphone, and you'll get your shipment right to your doorstep.
Are You a Construction Contractor?
More and more, new build projects and renovations turn away from natural grass in favour of synthetic turf due to its longevity and easy maintenance. Especially when construction crews need a last-minute hand, you'll be stocked and ready to go when a job becomes available with wholesale artificial grass supply. With a well-performing product and quality workmanship, your clients will be more than happy with your exceptional work and likely keep you in mind for future products where you can dip into your wholesale supply.
Are You an Interior Designer or Decorator?
Wholesale artificial grass in Canada is not just meant for outdoor applications. Versatile synthetic turf can be used inside in various ways, including decor, welcome mats, green walls, and even putting greens. The innovative artificial grass is a great option for interior and exterior designers looking to get more creative and impress clients.
Are You New to Artificial Grass Installation?
It's essential to build a strong reputation and relationship with customers, which means working with reliable artificial grass wholesalers who will deliver high-quality products in a timely manner that will keep your customers happy. So, if you're not familiar with the ins and outs of artificial grass in Canada, Echoing Green offers professional guidance, directing newcomers on choosing suitable grasses and installation. We also provide premium artificial grass installation services in Toronto for landscapers looking to subcontract installation.
Shop wholesale artificial turf online or contact us to learn more about our services.