Which Artificial Grass in Toronto is Best for an Indoor Putting Green
If you're building an indoor putting green for your home, you'll want to customize and choose the materials to ensure it lasts for many years. The key to a long-lasting putting green starts with the best artificial grass in Toronto from Echoing Green. If you're an avid golfer but unsure what to look for from turf supplies online or in-store, contact the Echoing Green team to learn more about our selection of grasses. With our help, you'll be able to design the perfect indoor putting green in no time.
Keep reading to learn more about why artificial grass is best for an indoor putting green.
Pile Height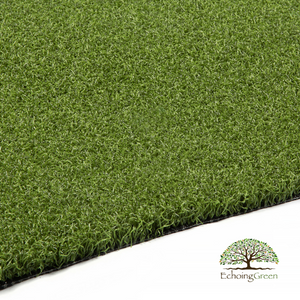 Practicing your putt at golf courses is often a good outing, but sometimes, you don't know what you'll get. The putting greens may have long, irregular lengths, making it hard to achieve the perfect ball roll. To get an optimal ball roll, a short pile height — around half an inch — is ideal for putting greens. At Echoing Green, our premium putting green turf is short and smooth, guaranteeing a smooth ball roll that is easily comparable to a beautifully maintained golf course.
Face Weight
The face weight of your artificial turf refers to the density of your turf and how much material — synthetic grass fibres — is packed into your turf. With more material and density, your indoor putting green is able to withstand more wear and tear, ultimately boosting its durability and lifespan. Rather than get sparse grass at a golf course or putting green, get the perfect putting green for practicing with indoor artificial grass in Toronto from Echoing Green.
Backing
Echoing Green's artificial grass in Toronto and putting green turf is backed with polyurethane, making it flexible, durable, and lightweight to support the impact of each swing of a club. The porous polyurethane backing facilitates drainage for a dry and fast moving putting green surface that enables better play and longevity.
Tuft Lock
The tuft lock on your artificial grass refers to how well the fibres are secured to the backing. This is incredibly important with putting green turf because it needs to withstand constant foot traffic and significant impact from clubs. Putting green turf from Echoing Green well-secured, so there's no risk of divots, holes, or fibres falling out.
Customizable
If you go to golf courses, while they may be beautifully designed, it may not be your preference. With artificial grass for your putting green, you're able to customize it to your desired difficulty, topography, contour, and hole placement. Visit Echoing Green to learn more about the endless possibilities of designing your indoor putting green. Or talk to the team directly to learn more about custom turf options.
Easy-to-Maintain and Clean
Unlike golf mats or outdoor courses, artificial turf has no maintenance, especially inside your home. When you install our artificial grass in Toronto, there's no need to waste time or money on fertilizers, mowing, or watering. In the instance that there is a mess or spill, cleaning it up is easy with AquaKlor, our eco-friendly, pet-friendly and non-toxic sanitizer.
Artificial Grass in Toronto for Home Putting Greens
When designing and installing your indoor putting green, look no further than Echoing Green. We use exclusive European luxury turf that's able to withstand decades of play.