Where Can I Install an Indoor Putting Green?
If you're an avid golfer who wants to practice your golf game, investing in putting green turf may be at the top of your wish list. While outside may be the first place that comes to mind when installing your artificial putting green, there are many other options. Putting green turf is versatile and can transform your home into a golfer's dream.
An indoor putting green is perfect for a wide spectrum of people across the Greater Toronto Area. With an indoor putting green, you're able to practice all year round. Built with Echoing Green's long-lasting and luxurious articial turf in Toronto, a custom indoor putting green benefits kids, families, and single adults.
The first order of business when installing an artificial putting green is where you'll put it. Here are some tips to guide your artificial grass installation placement.
Basement Putting Green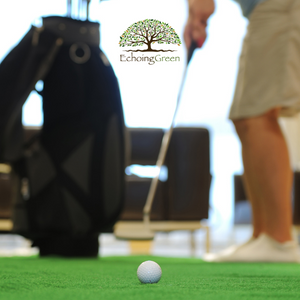 Basements are typically wide open spaces, making the perfect space for an indoor putting green. With a bigger space, you're able to install as many indoor putting greens as you wish, all varying in difficulty. With Echo Pro Putt and Echo Pro Putt 70 from Echoing Green, you can customize endless designs for your new putting green turf. Your basement will seamlessly be transformed into a golf oasis. During the offseason, you're able to practice in peace. Come spring, you'll be a pro.
Home Office
Working from home has become common, so many homes now have offices. However, working from home may lead to a sedentary lifestyle, which puts people at risk of diabetes, cardiovascular diseases, or an overall feeling of lethargy. A putting green in a home office may seem unusual, but it's an excellent place. Putting green turf in your office allows you to take a break from work, clear your mind, and get some exercise. A quick game of golf by yourself is a great way to reduce stress, increase mobility, and help cognition.
Game Room
If you want to change your game room, try installing putting green turf. An indoor putting green is a great way to bring together family and guests. Not everyone has one, and not everyone has played golf — show off your skills with an indoor putting green during your next party.
Living Room
If you have space for it, installing your putting Green in your living room is a fun and unique way to get the family involved and practice their putt. By installing a putting green in your living room, you get to share your love of golf with your family and make it a family activity. Also, an indoor putting green is a safe and fun activity for kids. While pesticides may be present on outdoor putting greens, artificial indoor putting green turf is chemical free.
Choose Echoing Green
An indoor putting green is a fantastic way to improve health and fitness, practice your short game, and entertain your family and friends. Unlike outdoor putting greens, you can use your indoor putting green day, night, and all winter long.