When Does Artificial Grass Installation on Pavement Make Sense
Major Canadian cities are becoming more of a "concrete jungle," leaving property owners looking at new ways to incorporate green spaces into their landscaping and living space. Artificial grass installation is a flexible, easy, and long-term solution to the problem of greenery and natural grass in urban centres, where nature is few and far between.
One of the reasons artificial turf in Toronto is becoming so popular is because the turf can be installed on virtually any surface. Here are some of the times artificial grass installation on pavement makes perfect sense.
Different Types of Pavement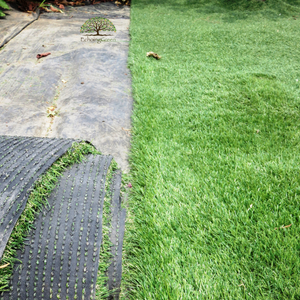 Artificial turf in Toronto can be installed successfully on all types of pavement, including concrete, asphalt, stone, composite, and more. For the best result, proper drainage and longevity, reach out to the artificial grass installation team at Echoing Green.
Around Your Swimming Pool
If you've ever made the trek from the patio to the swimming pool on a hot summer day in the city, you know how uncomfortable the burning pavement or stones can feel on your toes. With artificial turf in Toronto, you can say goodbye to the sizzling hot surface around your pool. Artificial grass installation from Echoing Green includes high-quality silica infill and turf with built-in UV protection to help regulate the temperature for a cool and comfortable surface that is safe for pool-goers to walk on barefoot.
Condos & Balconies
Many residents of the Greater Toronto Area live in apartments and condos well above ground level, where there is easy access to park spaces. Artificial grass for balconies is a foolproof way to bring the serenity and comfort of natural grass to the city's condos. Artificial turf in Toronto can be installed on balconies of all different shapes and sizes to get a backyard feel from even deep within the city's core.
Pet Owners
Do you have a pet but no grass? At Echoing Green, you can find high-quality artificial turf in Toronto designed for the benefit of pets. Many dogs appreciate the texture of grass, so artificial grass installations on your concrete porch, balcony, or backyard, create a pet-friendly zone that pups of all sizes can enjoy. When you opt for artificial grass for dogs, you can create a fun play area for your pet that is free of fleas and other contaminants like fertilizers and bacteria. Natural grass and dirt are prone to mold, mildew, bacteria, and insects. Artificial grass installation eliminates those vulnerabilities for a more pet-friendly environment.
Rooftop Turf
For many people, the options for rooftop landscaping are limited. If you want to plant grass, gardens, or even trees, you can't dig down into the earth. You'd have to transfer potting soils and topsoil as well as heavy plants up to the top of the building. With artificial turf in Toronto, you can install a durable green flooring that offers the lush feel and look of natural grass with greater ease and minimal maintenance. At Echoing Green, our artificial turf is engineered with an advanced polyurethane backing that makes the product lighter and easier to transport.
Artificial Grass Installation
Artificial grass presents many opportunities to transform and upgrade your property. If you have a vision for your space and artificial turf in Toronto, reach out to the Echoing Green team.