What Time of The Year Should I Install Synthetic Turf?
Artificial grass is gaining in popularity in homes across the Greater Toronto Area. Synthetic turf offers a long-lasting, high-quality solution to landscaping, lawns, and indoor and outdoor athletic fields. Although artificial turf is standard with many commercial stadiums and athletic spaces, it is also an excellent investment for residential properties. Synthetic backyard turf can genuinely transform your home or backyard, minimizing your lawn care and maintenance while ensuring you and your family can enjoy your outdoor living space all year round. This includes installing artificial grass for your front lawn, backyard lawn, or even as a dedicated putting green or sports field. But, when it comes to synthetic turf in Toronto, how do you know what time of year is best for installation? In this blog post, we have summarized everything you need to know about artificial grass installation in Toronto and the best time of year to install your new indoor or outdoor lawn.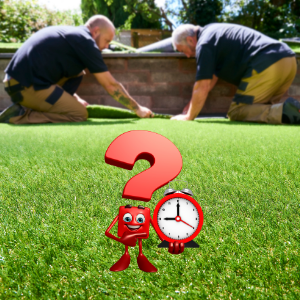 Consider Your Schedule
When installing artificial grass in Toronto, it is vital to consider your and your family's schedule. Installing synthetic turf can take some time, and it is important to find a time that will cause the least amount of disruption to you and your family. If you are installing synthetic turf or landscaping in your backyard, you might want to choose the fall or spring when you use your outdoor space less often. This will let the expert installation crew perfectly place your synthetic turf without being disrupted by kids or pets. If you choose to install synthetic turf inside your home, you might want to select a time of year when you and your family can be outside and out of the way of the installation team. Late summer or early fall is usually a great time for indoor installations, allowing you to enjoy your new space as soon as the weather gets colder.
How Will the Weather Impact Your Turf Installation?
For outdoor synthetic turf, the weather can be a major factor to consider when scheduling your installation. Technically, artificial grass can be installed indoors or outdoors year-round. Still, it is much easier to install it outdoors when the weather is warm, and there is minimal precipitation on the ground. Late spring and early fall are both popular times for synthetic turf installation in Toronto, helping you transform your outdoor living space while avoiding the worst of the winter weather. Thankfully, if you are planning on installing indoor turf, the weather will not be an issue.
How Will You Be Using Your Artificial Turf?
Many homeowners choose to install artificial turf in place of sod for their lawn to minimize lawn care, improve aesthetics, and ensure year-round useability of their yard. Others choose to install an indoor putting green to practice their golf skills during the fall and winter months. Depending on how you plan to use your turf, the best time of year for installation will vary. For indoor use in putting greens or recreation rooms, fall is a popular time for installation, allowing you to maximize the use of your indoor space during the winter. For outdoor synthetic tur,f including lawns and landscaping features, spring is the most popular time for installation. Early and late spring is usually the time when homeowners begin to consider outdoor renovations and aim to transform their space in time for the warm summer months.
Choose an Off-Peak Time for Your Contractor
Synthetic turf in Toronto is gaining popularity, and many artificial grass companies are booked solid through the spring and summer months. If you are looking for flexibility in timing and even potential deals on your installation service, it is best to choose an off-peak time such as the fall or winter. A less busy time also means you will be able to shop around between different artificial turf companies to find the best quality product and installation service for your home or backyard.
Taking Care of Your Synthetic Turf Year-Round
Compared to a sod lawn or traditional landscaping, synthetic turf requires relatively minimal maintenance. Artificial turf is a durable, beautiful addition to any home that can easily last between 12 to 15 with little to no maintenance. To extend the lifespan of your synthetic turf, you should occasionally rinse your turf and cross brush it with a broom. You can also use a leaf blower to help clear your synthetic turf of leaves and sticks during the fall. Unlike a traditional lawn, you can even use a broom to clear your artificial grass of leaves and sticks.
Why Choose Echoing Green Artificial Grass?
Echoing Green has over 20 years of experience installing synthetic turf in Toronto and the Greater Toronto Area. All our artificial grass is manufactured in state-of-the-art facilities in Spain and Holland. These grasses meet strict European standards to ensure a high-quality, long-lasting product. Echoing Green's grasses, are UV protected, have exceptional colour quality, and come with a 10-year warranty. All our grasses are environmentally friendly and 100% recyclable to help both you and the planet. We currently install synthetic turf for commercial and residential clients, including front and back lawns, indoor and outdoor putting greens, and turf fields.
Homeowners in Toronto are raving about their synthetic turf thanks to its minimal maintenance and beautiful appearance. With an artificial lawn, you will no longer need a lawnmower, and your synthetic turf will remain green, weed-free, and lush all year round. Without the need for toxic chemicals, including herbicides and pesticides, you, your family, and your pets can enjoy your artificial lawn without worrying about your health and safety. While increasing your curb appeal, you will eliminate pooling water and muddy patches thanks to the exceptional drainage of synthetic turf. Installing an artificial lawn is truly a transformative decision for your family, lawn care routine, and curb appeal.
For more information on any of Echoing Green's high-quality, European turf, or to get started organizing your indoor or outdoor installation, contact our expert team today at 647-494-4883.