What Are the Best Products for Artificial Turf Cleaning?
One of the best qualities of artificial grass is its low-maintenance nature. When you install artificial grass in Toronto to replace your natural grass landscaping, you no longer need to worry about time-consuming tasks like lawn mowing, watering, and weed removal. Even better, you don't have to invest hundreds of dollars every year into grass treatments like fertilizer, aeration, pesticides, and other costly services. With exceptionally real-looking and feeling artificial grass installation from Echoing Green, you can simply enjoy your landscaping and eliminate all the expensive work. Still, every now and then, you may find yourself in need of artificial turf cleaning.
Why You Need Artificial Turf Cleaning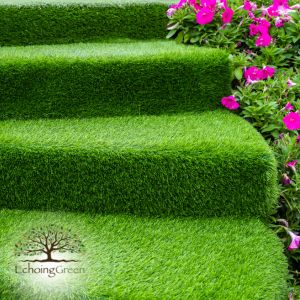 Wherever spills happen or dust accumulates, to preserve the beautiful and pristine appearance of your artificial grass in Toronto, you'll need to clean your grass every so often, or you can talk to Echoing Green about scheduling easy artificial grass maintenance and cleaning services in the Greater Toronto Area. By refreshing your synthetic grass with the right products, you can elevate your entire outdoor environment and preserve the lifespan of your artificial grass landscaping.
Artificial Grass for Dogs: Installing pet turf is popular among dog owners. The addition gives your four-legged family member a safe, non-toxic, and fertilizer-free environment where they can play and do their business. When used as a potty pad, you'll want to ensure your landscaping is always sanitary and odour-free. With turf cleaning services and products, you can eliminate bacteria and rid your property of unwanted odours.
Artificial Grass for Kids: Kids are known for their clumsiness and frequent spills. From ice cream cones, juices, and other common treats, a lot can fall on your artificial grass during playtime. The problem with many of these sugary items is that they can create a sticky surface that attracts insects and bacteria. While artificial grass in Toronto from Echoing Green is inherently bacterial and insect-resistant, it's essential to clean these spills to protect the ambiance as well as your turf.
Artificial Grass Landscaping: When you cover an entire property with luxury artificial grass, it will do wonders for the look and feel of your lawn. But depending on the trees or animals around your property, you may notice small sap or fruit droppings on your grass. When you come across nature's messes, a quick cleanup can restore your turf and keep it looking fresh.
Products for Artificial Turf Cleaning
Artificial grass cleaning is an easy way to easily preserve your landscaping, eliminating dust and debris. At Echoing Green, we offer some products to facilitate your cleaning and help you maximize your turf. AquaKlor is a high-quality disinfectant that can be attached to your hose. This is great for sanitizing pet-centric areas to eliminate bacteria. You can count on a healthy and hygienic environment when paired with the advanced BacShield technology of TºCool Infill. The other product you can use to elevate your backyard turf cleaning is EchoFresh. EchoFresh is an industry-leading artificial grass spray that rids your grass of odours, digesting and liquifying odour-inducing bacteria, leaving a long-lasting fresh-cut grass aroma in its place.
To learn more about artificial grass installation, contact Echoing Green.