Top Reasons to Choose Dog-Friendly Artificial Grass
As homeowners and pet owners, we must create safe and comfortable environments for our furry friends that also supports the aesthetics of our desired home. An outdoor grassy area is crucial for your dog to relieve and enjoy itself. A great alternative to natural grass is artificial grass for dogs. Artificial grass provides you with a low-maintenance and greener backyard year-round. Echoing Green provides artificial grass in Toronto to businesses and homeowners, along with turf cleaning and installation services. Make your switch to artificial grass with luxury grasses with Echoing Green.
Explore reasons why to choose artificial grass for your dogs.
Removal of Chemicals and Insects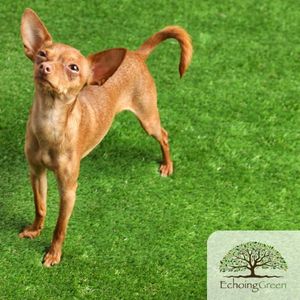 Natural grass is a typical habitat for pests and insects, as they often feed on grass and dirt. This can affect your dog's health, as they can pose severe threats to their organs or infest their skin.
By eliminating this risk with artificial grass in Toronto, you can avoid the following:
Tick diseases
Skin irritation
Tapeworms
With artificial grass, you can save yourself from expensive trips to the vet and provide a safer space for your dog to play aimlessly. In an attempt to remove insects from natural grass, pesticides and other chemical products are frequently applied to keep the grass alive. Dogs are lower to the ground and sniffing. Therefore, they ingest a generous amount of the chemical, which can harm their health. Artificial grass creates a similar environment to natural grass without all the dangerous chemicals and bugs. Dogs can't differentiate artificial turf from natural grass, so switch over today to create a better living for your furry friends.
Eliminates Bacteria and Odours
When installed with high-quality TºCool infill, contaminants like dog urine don't sit all day in the artificial grass in the sun. Instead the rounded beads and permeable backing support effective drainage to keep the artificial grass looking, smelling, and functioning exceptionally. With reliable turf cleaning services, you can treat your artificial grass for dogs with EchoFresh to eliminate odours and leave the area with the fragrance of freshly cut grass.
Easy Artificial Grass Cleaning
Artificial grass is revered for its low maintenance needs. It's recommended to perform a regular cleaning every month; however, with a dog, a quick weekly cleaning is best to avoid any sign of odours. You can call the professionals for turf cleaning or do it yourself.
Follow these simple steps:
Remove any dog waste from the turf
Hose down the artificial grass to rinse and drain any kind of urine
Schedule artificial grass maintenance & cleaning to refresh the look and feel of your grass
Reduces Outdoor Messes
Especially in the rain, natural grass can get messy fairly quickly. As dirt turns to mud, no one wants to clean dirt off their floors trekked into the home by the dogs. Artificial grass eliminates that issue by removing the opportunity to dig in the dirt or feed on the grass. Enjoy the relaxation and peace of mind of not worrying about cleaning up after your dog after playing outside.
Dog-Friendly Turf with Echoing Green
Here at Echoing Green, we know how important your dog's quality of life is. As they are a part of your family, as any human is, we want to provide a safe oasis for them to enjoy. With our high-quality, luxurious artificial grass for dogs, trust the team at Echoing Green to perform installation and maintenance. We aim to exceed our customers' expectations with affordable prices and customer satisfaction. For year-round greenery and dog-friendly landscaping, choose luxury artificial grass.