Tips for Practicing with a Backyard Golf Green
Mastering the art of a swing and the fine details of the golf is crucial in succeeding out on the links. Making the time to go out to the golf course to practice can be draining and demotivating especially as tee-times get booked up. Create the perfect golfing experience right outside your backdoor with a backyard golf green. With Echoing Green, you can create a natural-looking custom putting green with high-quality synthetic turf. We will assist in designing and installing your dream putting green, so you can enjoy years of practice and play.
Read on to learn how to optimize your backyard golf green.
Create a Putting Routine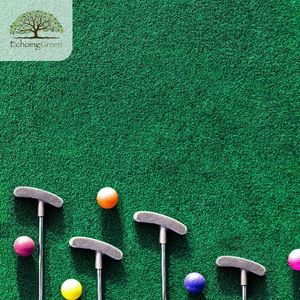 Through repetition and consistency, skill develops. Try creating a routine with setting up your ball, and practicing placement of the hands and your stroke, as these are the small details that matter when it comes to golf. Repeating the routine with the different types of clubs can create versatility in your skill set. If you are just starting, it's good to get the basics down first, create good habits, and train muscle memory. And if you have been in the game for a while, returning to the basics is still good. You won't experience wear and tear with synthetic turf when you opt for high-quality artificial grass for putting green and expert installation from Echoing Green.
Focus on Accuracy
To improve your stroke, consider taking the time for each putt, focusing on strategy, fixing any flaws you find in your form. Try swinging without a ball to direct all your focus to the stroke. By focusing on the quality of your stroke in your backyard golf green, you can focus on the outcome of the golf course. Setting a good foundation is critical in perfecting your game of golf. Whether you notice you are swinging too hard or missing the ball, take the time in your backyard to focus on the fine details and explore online videos that can help fix your form. With a backyard putting green designed by Echoing Green, you can confidently adjust the strength and position of your stroke without worry about divots or damage to your golf green. All of your artificial grass installations are completed to perfection to enable durability and longevity.
Practice at Different Distances
With freedom in terms of customization, you can create an array of different course types. We recommend adding dimension to set challenges and variety when designing your putting green. If you make a flat green, it can become tiresome fairly quickly. Depending on how much room you have for your putting green, you may be able to incorporate a bunker, which is one of the areas most players struggle with. It's best to include the course areas that need the most attention and improvement.
Custom Backyard Golf Greens with Echoing Green
Enjoy swinging at a golf ball without the stress of doing it right each time, with a backyard putting green. Make all your mistakes and perfect your form in your backyard to impress everyone on the golf course. If you are a golf fan, this home addition is the thing for you. Call Echoing Green with any questions or to get started planning the design. If you have the clubs and the golf balls, all you need is a place to practice. Not only do we come to install the artificial grass in Toronto and the GTA, but you can also call us for maintenance and cleaning.