Tips for Keeping Your Artificial Grass Installation Cool
Artificial grass offers many benefits to homeowners or property owners throughout the Greater Toronto Area. The innovative product engineered for longevity and low-maintenance aesthetics from Echoing Green, not only saves time and money but improves outdoor comfort. When exploring artificial grass installation for your backyard, patio, balcony, or other outdoor space, many people wonder how they can keep the surface cool. In most cases, hardscaping options like pavement, patio stones, and wooden decks can heat up in the sun, so it's understandable to have a similar concern about synthetic turf. But with high-quality artificial grass from Echoing Green, you can regulate the temperature of synthetic landscaping.
Here are some of our top tips for how to keep your artificial grass installation cool.
Choose Artificial Grass with UV Protection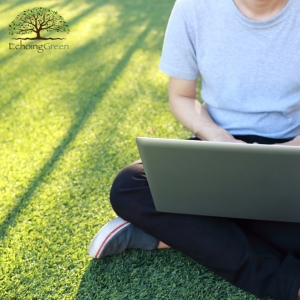 One of the reasons artificial grass in Toronto can warm up is because of exposure to the ultraviolet rays emitted by the sun. Full of energy, these UV rays are responsible for heating up all our outdoor surfaces that are in the sun. To ward off the energy from the sun, artificial grass from Echoing Green is engineered with UV protection. The colour-fast technology not only protects the fibres from fading it also reflects the sun's ray away, mitigating excessive heat absorption. As a result, your artificial grass installation stays cooler longer.
TºCool Infill with Your Installation
Infill plays an increasingly important role in artificial grass installation. When your artificial grass company uses a high-quality and high-performance infill it directly affects the longevity, durability, and feeling of your landscaping from the texture to the temperature. At Echoing Green, we use premium TºCool infill for commercial and residential artificial grass installations which, in addition to fending off contaminants with BacShield Technology and improving drainage, keeps synthetic turf cool. Its exceptional water-retention capabilities and all-natural makeup allows artificial turf to be cooled up to 10ºC (50ºF). When installed around your backyard, swimming pools, decks, and balconies this can dramatically improve the comfort of landscaping surfaces.
Effective Permeable Backing
The backing of synthetic turf can be overlooked, but it too can play a part in how well your artificial grass installation cools down. Without effective drainage water collects on the surface which can increase heat absorption and surface temperatures. As rain and heat go hand-in-hand, it's important that homeowners installing artificial grass in Toronto choose a product that can effectively facilitate the movement of water away from the surface. Artificial grass from Echoing Green is designed with a permeable polyurethane backing that allows rainwater and other moisture to seep through the grass and the base of the installation.
Get Comfort, Texture & Aesthetics with Echoing Green
From the luxury European-designed product to expert installation, Echoing Green is the leader for artificial grass in Toronto and the Greater Toronto Area. Build a custom, low-maintenance oasis anywhere on your property with our exceptional product that's safe for pets and kids. To learn more about how you can leverage synthetic turf, talk to the Echoing Green team.