The Environmental Benefits of a Backyard Putting Green
For many years now, the environmental impact of natural grass has come to light. From excess water use to mowing-induced gas emissions, we know that grass can often monopolize resources and increase our ecological footprint. On the other hand, synthetic grass provides a long-term solution to these environmental strains of natural grass. But it doesn't just have to be a lawn replacement; get creative with your yard and install an artificial grass backyard putting green.
Read more about the environmental benefits of installing artificial grass in your backyard.
Water Usage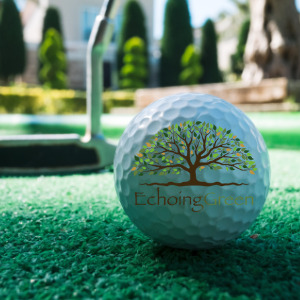 We understand that for many homeowners, your lawn is a source of immense pride and the result of great caretaking and maintenance. On average, it takes 20 minutes, three times a week, to get 3cm of water over your entire lawn – 1 hour a week running your water minimum. Not to mention, during the summer months in Canada, water usage skyrockets to an all-time high, and a half to three-quarters of all municipal water is used for lawns. Not only will it cost you a lot to water your grass, but it is terrible for the environment. Lawns require tons of water to look aesthetically pleasing. Synthetic grass installation saves your wallet and when you upgrade to a backyard putting green, you can add an element of fun too.
Pesticides and Herbicides
For natural grass to stay lush and green, many chemicals such as pesticides and herbicides are used that contaminate soil, water, and other plants. Herbicides and pesticides used in gardens are also toxic to birds and insects that are essential to the ecosystem of our gardens. Fertilizers, pesticides, and herbicides also cause harm to humans as chemicals can be absorbed through the skin. Lawns absorb more carbon than they release as carbon dioxide, which defines them as a carbon sink. An Appalachian State University study states that the energy that goes into generating fertilizer and fresh water, as well as mowing the lawn, produces more greenhouse gasses than they are able to subsume. From 1990 to 2019, greenhouse gasses increased by 45% - one of the most significant contributors to climate change. For a synthetic grass putting greens from Echoing Green, no pesticides, fertilizers, or other chemicals are required to give it the long lasting green look and play of an actual golf course.
Lawn Mowing & Gas Emissions
Lawn mowing is not only time-consuming, loud, and expensive, but it releases really harmful pollutants to the ecosystem. Pollution from mowers is terrible; for someone who mows frequently, they produce the same pollution as driving a car between 160 to 320 km and using approximately 580 million gallons of gasoline annually. Incorporating synthetic grass into your home in Toronto is the next step to becoming environmentally cautious. Echoing Green offers affordable backyard putting green, providing excellent sustainable options.
Why Choose Echoing Green
If you want to say goodbye to non-stop maintenance and save money while being environmentally friendly, Echoing Green can install synthetic grass that suits your needs. A backyard putting green also offers you an at-home putting experience - bringing family and friends together.