What's The Difference Between Synthetic Turf and Real Grass
The classic image of many North American homes includes a beautiful green front and back lawn. It's an important residential feature for both aesthetic reasons and lifestyle reasons – both of which rely on a lush landscape. In recent years, however, more and more homeowners are opting for artificial grass in Toronto over real grass, and the benefits are making for a good decision.
A lush green lawn (whether artificial or real) serves as a fabulous outdoor space for the entire family. Today, with recent technological advancements, homeowners can easily choose to install artificial turf as an alternative to real grass. For those considering synthetic turf in Toronto, the most important thing is to consider a high-quality product and artificial grass installation.
Deciding to Install Synthetic Turf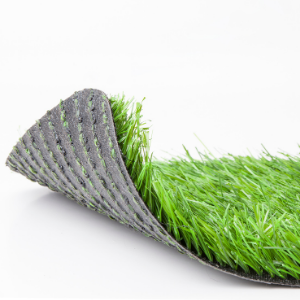 For some, it may be debatable whether to install artificial grass. Clearly, it's important to compare the costs, benefits, and advantages. With a potential lifespan of 25 years, artificial grass provides many benefits over real grass – and seasonal maintenance is one of the bigger benefits.
The look and feel of artificial grass is also in question. But today, there are countless quality turfs to choose from, offering realistic pile, colour, and texture. The best part, of course, is that artificial grass needs no watering, fertilizing, or mowing – and practically no regular maintenance.
Synthetic Turf Improved Quality
A high-quality artificial grass product will satisfy all types of residential needs – from a leisurely patio, to a children's play area, to a safe and comfortable pet space. In a city like Toronto, an artificial grass lawn looks great throughout the year, no matter the weather's extremes.
Artificial grass can also dramatically benefit the environment. For example, there's never a need for harmful pesticides or chemical fertilizers, all of which get flushed into the city's drainage system. There's also no need for those awful carbon emissions from power mowers or blowers.
Artificial Grass Cost Differences
There's no argument that installing artificial grass would be a more costly endeavour than replacing an entire lawn with real grass. However, other than the upfront costs, artificial grass will have practically no costs going forward. On the flip side, natural grass has significant upkeep and maintenance costs when compared to backyard turf.
Not surprisingly, natural grass requires a huge amount of watering during the summer season. More than that, there are substantial costs associated with weekly maintenance. Not to mention the cost of seasonal fertilizing and pesticides. Many homeowners don't realize all of these "incremental" costs.
Some Benefits of Artificial Grass
With very minimal maintenance required, artificial grass only needs some rinsing down from time to time and some periodic brushing of the surface. Best of all, no watering is required, so there are no water costs and no water being wasted just to keep grass green throughout the year.
Winter or summer, there's never a worry of dying grass with artificial turf. And with pets, there's never an issue of "odour control" when the surface is properly cleaned and rinsed. Bottom line, when considered over a long period of time, there is less work and cost with synthetic turf.
Environmental Impacts of Artificial Grass
While artificial grass and natural grass affect the environment in different ways, artificial grass does not consume huge amounts of water, which is essentially a waste. Worse still, natural grass often requires spraying with pesticides, and seasonal fertilizing to keep things green.
The problem with fertilizers and pesticides is that everything gets washed down into the municipal water systems and simply represents water pollution. As for synthetic turf, the only water required is for some surface cleaning from season to season. There is no significant water consumption.
Artificial Turf Associated Costs
The cost of product and installation with synthetic turf will depend on a number of factors. These would typically include the grass product chosen, any additional supplies and product needs, and the overall installation costs. Needless to say, everything will depend on the size of the space.
Certainly, a "wall to wall" installation in the front yard or back yard would be more labour intensive than a patio area or an outdoor deck. In addition, elaborate landscaping features will add costs simply because of the extra time required. A good company will recommend the best options.
Professional Artificial Grass Grass Installation
Homeowners installing artificial grass will derive the best overall results with a professional. This is a major project, and an inadequate DIY install could look aesthetically unappealing, amongst other issues. On the flip side, professional installers have the right experience and expertise.
At Echoing Green, our installers do it right the first time. We prepare the base properly; we cut and trim everything perfectly, and we secure and finish the final installation. With our proprietary "backing system," appropriate drainage is ensured, along with optimal seasonal performance.
Embrace Quality Artificial Grass in Toronto
With Echoing Green, residential and commercial customers are assured of 100% satisfaction on every project. And although we offer our proprietary grass products for DIY installation, we would typically recommend a professional approach when installing backyard or front yard landscaping.
Echoing Green custom grasses offer a 10-year warranty – it's a sign of high-quality products and guaranteed long-term performance. Our European grasses are designed to look very natural and realistic while providing durability and hardwearing performance, season after season, for years.
During COVID-19, Echoing Green is fully committed to serving our clients. We are working in the safest possible manner and implementing the highest levels of hygiene protocol. We are also offering contact-free installation to protect both customers and our workers. Most importantly, we understand and appreciate the impact that COVID-19 has on everyone, so we're doing our best in our day-to-day operations.