The Benefits of Playing Golf on Artificial Grass Toronto
Golf is often an overlooked sport, considered a solo activity, and its benefits are sometimes ignored. The reality is that golf is a game that has a multitude of advantages physically, mentally, and socially. Whether you're new to the game or it has been your long-time love, you can capture the benefits of golf while having fun with a backyard putting green from Echoing Green. Using our luxury artificial grass in Toronto you can customize your own golf-centric backyard that you can use for years to come.
Here are some benefits of playing golf and practicing your putting.
Improve Socialization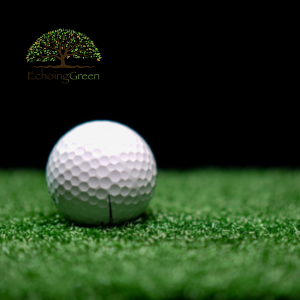 Golf is a "gentleman's game," so while it gets competitive, it allows kids and adults alike to compete and socialize in a friendly nature. If you're hosting a party or setting up a playdate, a backyard putting green is an easy way to get everyone engaged. Synthetic grass from Echoing Green is exceptionally durable, featuring an advanced polyurethane backing, enabling it to stay in-tact and play well even when used by a large group of people without divots.
Mental Alertness
Beyond the benefits of social connection, golf in the comforts of your own homes enhances mental alertness and focus. Components of the game like lining up a putt, strategizing your next play, or reading bends and breaks, forces you to get innovative and creative. When you customize your own backyard putting green from Echoing Green, you can choose the hole locations and topography of the green to control how challenging it is for you, based on your skill level.
Physical Wellness with Artificial Grass
If you spend most of your time inside, especially during the warm summer months, a golf green right outside your door is an easy and effective way to get outside and move around more. Staying inside can cause people to live a more sedentary lifestyle which is more likely to result in illnesses like diabetes, cardiovascular disease, high blood pressure, osteoporosis, and many more. So, even if it seems minor, getting outside to practice your short game for as little as 15 minutes will improve vitamin D exposure and mobility for a healthier lifestyle.
Mental Wellness & Custom Putting Greens
Between work and family, life will inevitably get stressful every so often; sometimes, it helps to just take your mind off it and spend your time on something else. Golf is a great way to escape daily stressors that lead to depression and anxiety. You can invite friends over for a social round or hit a few balls on your own to get some time to decompress. Just spending time outside is reported to reduce stress and depression while improving sleep and enhancing creativity.
Build a Backyard Putting Green
If you're ready to bring the benefits of golf home with a synthetic grass putting green, contact Echoing Green. We will customize your putting green to your backyard and install your turf securely. Built with our high-quality putting green turf, your putting green will be weatherproof and durable. Get started with the Echoing Green team right away.