Supplies Landscape Contractors Need for Artificial Grass Installation
Installing artificial grass in Canada is, in many ways, very different from natural grass installation. Landscape contractors switching to artificial grass landscaping will notice that installation is much less messy and significantly faster. Some supplies needed are different from what you would typically use with sod or grass rolls, but they will guarantee the best artificial grass installation for your customers, keeping them happy and excited about their new landscaping.
At Echoing Green, we stock our full range of artificial grass and installation accessories online so landscape contractors in Canada can conveniently find all the supplies you need and purchase them wholesale.
Here are the supplies you need for the best artificial grass installation.
Weed Barrier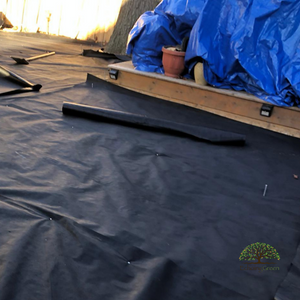 The base literally is the foundation of any grass landscaping. Since one of the most attractive pull factors for the best artificial grass in Canada is that it's maintenance-free, it is essential that the base is equipped to prevent fast-spreading weeds from peaking through the surface of your turf. While landscape contractors can rest assured that artificial grass from Echoing Green is already a deterrent to weeds, laying a weed barrier is the best way to guarantee that no wildflowers will interfere with a landscaping job.
Fasteners
Since artificial grass has no roots, landscape contractors must physically adhere the turf to the ground to remain secure. When properly fastened, the best artificial grass in Toronto will withstand everyday use, high winds, storms, and even stray animals or pets. There are three main tools used to effectively secure artificial grass at the point of installation - staples, seam glue, and spikes. Staples are used to pin the turf in place as you line up all the pieces. Artificial turf glue attaches multiple pieces of synthetic turf to one another for a firm hold and seamless appearance. Then, galvanized spikes are nailed carefully through artificial grass to hold down both the middle and the perimeter of the turf.
Infill
Adding Envirofill Infill to your artificial grass is key to installation. The multi-purpose sand is vinyl coated, holding synthetic turf fibres upright and in place while simultaneously keeping the base of the turf weighed down. At Echoing Green, we use high quality silica sand infill to enhance our premium European turf to give it the lush sensation and look of healthy natural grass.
EchoTile
The Air Drain EchoTile enhances airflow and drainage around the turf. Installed below artificial grass in Toronto, it allows water to flow easily through the backing. Better drainage allows for bacteria, odours, mold, and organic waste to be easily flushed away from the surface of the turf by removing stagnant air and water that often get trapped within natural grass.
EchoPlay
Under padding or a padded underlay does not always need to be used for artificial grass in Canada. But it is a good idea for landscape contractors working on kid-centric areas such as schools, daycare centers, play areas, and even swimming pools. EchoPlay underpadding equips artificial grass in Toronto with fall protection to minimize the impact of injuries in the case of slips and falls.
Artificial Grass
The most vital piece of equipment for a successful artificial grass installation for landscape contractors is artificial grass itself. From UV protection to drainage, premium European artificial grass from Echoing Green offers many benefits to keep customers happy and installations long-lasting.
Shop online to find all your artificial grass installation supplies!