Stay Entertained with An Indoor Putting Green
With Toronto's recent lockdown, individuals are restricted to their homes. Still, it can be difficult to find ways to keep yourself, your children, or your family entertained and active with our city's cold weather. More than ever, people are looking for ways to improve their home's interior with entertainment. Whether that means installing an indoor movie theatre, an indoor putting green or even a new exercise machine, it's important to find ways to stay sane while stuck in our homes. With Echoing Greens' artificial grass in Toronto, you can install an affordable indoor putting green that will solve your winter blues. But how exactly does it help keep the entire family entertained?
Entertainment for The Entire Family with Artificial Grass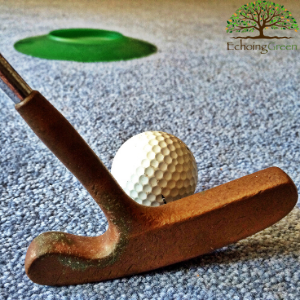 Whether you're an avid golfer looking to practice and up your golf game, or you're only looking for an activity for the family to enjoy, there are many ways indoor putting greens can entertain the entire family. While artificial grass can be installed both indoors and outdoors, an indoor application gives you the benefit of playing a golf game all year round. Not to mention the benefits of having an indoor activity during the wintertime.
A Hole in One
If you lack the space, a hole in one indoor putting green is a great way to stay entertained and an excuse to stand up and be active! This an excellent option for those who are working from home and have a home office space. As more and more work from home or find themselves stuck at home, this hole in one course allows you to stand up, move your body and putt a few holes as a break.
A Mini-Putt Course for Everyone
Depending on the space available, an indoor mini-putt course is a great way to keep the entire family entertained. It's both fun for parents and children alike, not to mention young kids being able to learn golf skills at a young age.
A Golf Simulation
If you lack the space but still want the experience, a golf simulation is another great way to enjoy an indoor putting green. The idea is to incorporate your artificial grass with an interactive screen that mimics a golf course. You can practice your long swing or even set it up to reflect a mini-putt course for your family. The options are endless and quite fun!
Indoor Putting Greens with Echoing Green
Echoing Greens' artificial grass in Toronto is of the highest quality. We can provide you with a fully customizable, usable and high-quality indoor putting green with a proprietary product line. From design to preparation, artificial grass installation and even repairs, we do it all from start to finish. With a variety of putting turf to choose from, you can't go wrong. Whether it's for a personal golf game, to practice your swing or fun for the entire family, install artificial grass in Toronto with Echoing Green. Ready to install the artificial grass of your dreams? All you have to do is visit us online or give us a call.