Spruce Up Your Home This Summer with Turf for Backyards
New year, new you — or in this case, a new backyard. With a new calendar and winter bearing down on us and with winter bearing down on us, thoughts of summer are not uncommon. One prominent setting for warm Toronto days is the backyard. If you're ready to spruce up your backyard, consider backyard turf. Synthetic turf from Echoing Green is a vibrant and versatile option to upgrade your outdoor space and can be used in various applications.
Here are a few ways to spruce up your backyard with luxury synthetic turf.
Artificial Grass for Swimming Pool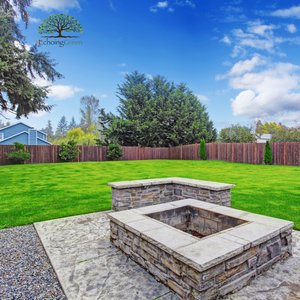 Rather than stick to the status quo and have cement blocks or pavers around your swimming pool, consider turf for backyards. Not only will artificial turf around your swimming pool add a pop of colour, but it also comes with many advantages. Artificial grass from Echoing Green is engineered to support excellent drainage, so when you get out of the pool, you won't have to worry about water pooling, which ultimately reduces the risk of slips and falls. And, unlike hardscaping, our artificial grass is UV-protected, staying cool in the summer, so you won't burn your feet getting in and out of your pool.
Upgrade Your Wooden Decks
For those who don't have a big backyard yet still want the comfort of grass, synthetic turf is an excellent choice. Artificial grass on your deck makes your deck comfortable and the centre of attention. Synthetic grass is much more comfortable on your feet, so you're able to walk around your deck on a cool, plush surface. If you want to add some versatility to your patio, install artificial turf and make a designated workout zone. Artificial grass from Echoing Green is soft and shock absorbent, making workouts easy on your joints. For workouts this summer, don't leave the comfort of your own home — transform your deck into a home gym with artificial grass from Echoing Green.
Build a Custom Backyard Putting Greens
Putting green turf from Echoing Green allows you to practice your short game whenever possible. Rather than abide by the rules and hours of your local golf course, you can perfect your putt at any time of day. Not only does a putting green let you practice, but it also increases your backyard's functionality. When you have parties this summer, your guests can swim, eat, or putt. With synthetic grass, the opportunities for fun in your backyard are endless.
Get Creative with Unique Landscaping
Aside from making your backyard more functional, artificial turf also makes your backyard look more unique and exciting. Echoing Green's premium artificial turf can be completely customized, from shape, and pile height, to design. If you want to add pathways, walls, or gardens throughout, artificial grass will help you achieve that.
Benefits of Turf for Backyards
Artificial grass makes your backyard more versatile and easier to maintain. No weeds, pests, or mowing are required, so you can enjoy your backyard rather than constantly keeping up with its appearance.
Luxury Artificial Grass & Installation
If you want to make your backyard the talk of the town this summer, look no further than Echoing Green's residential artificial grass for backyards. The team at Echoing Green is here to help you achieve the backyard of your dreams.