Spring Maintenance Tips for Artificial Grass in Toronto
Spring is an exciting time for property owners in Toronto and Southern Ontario. It marks the beginning of warm weather and increased sunshine. To prepare for the season, many people consider upgrading, refreshing, or preparing their outdoor space because this is where they will spend much of their free time. As such, March and April are the perfect time of year to upgrade your backyard turf to artificial grass in Toronto with Echoing Green.
If you have already installed artificial grass, you can refresh your backyard turf with simple maintenance tips that will help you launch your 2023 summer season. For easy artificial grass maintenance and turf cleaning services, reach out to the Echoing Green team directly.
Why Refresh Your Artificial Grass After Winter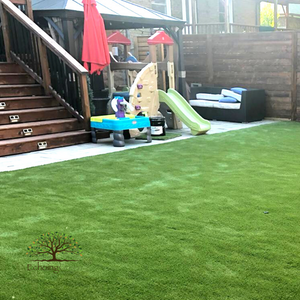 Luxury artificial grass from Echoing Green is famously low-maintenance, but after the winter snow melts, you may notice that your backyard turf for artificial grass landscaping needs to be revived. Artificial grass from Echoing Green is made per strict European standards; thus, it is made with strong, high-quality materials that enhance its durability and resilience to harsh weather conditions and even heavy use. After a month with the weight of snow on it, you may notice flattened or matted grass fibres, but these can be effortlessly revived.
Brushing Your Front Lawn or Backyard Turf
If your artificial turf is falling flat, you can brush your lawn to lift the matted fibres using a brush or broom with soft, synthetic bristles. Be sure not to use wire or metal rakes and brooms to avoid damaging the artificial grass. A simple run-through with a broom will restore life in your grass for a more lush and lively finish.
Check Your Artificial Turf Drainage
After the snow, wind storms, and all the other disarray that winter brings, organic debris such as twigs and rocks at the base of your turf can be compacted from the weight of heavy snowfall or ice. Removing these foreign items from your artificial grass landscaping can improve the water flow from spring rain or snow thaw. To streamline debris removal, contact the Echoing Green team for artificial grass maintenance services. Our team will help you quickly and effectively remove blockages for a healthier yard. With Echoing Green maintenance and synthetic turf cleaning services, you can opt for a top-up infill to ensure long-lasting lushness and better drainage.
Easy Odour Management
If you have pets or have opted to install artificial grass for dogs, you will want to ensure that odours from organic waste are always under control. While our premium infill fights unwanted odours from overtaking your lawn, you can also sign up for our synthetic turf cleaning services. Spraying your artificial grass with EchoFresh will eliminate bacteria-inducing odours using a non-toxic technology that not only neutralizes unwanted smells but leaves your artificial grass landscaping with the inviting aroma of fresh-cut grass, creating the perfect outdoor environment.
Artificial Grass Maintenance & Echoing Green
When you choose luxury artificial grass from Echoing Green, you can count on the highest quality in everything we do, from our selection of European grasses to our installation and maintenance services. We are here to help you easily transform your outdoor space's functionality and aesthetic.