Smart Uses for Artificial Grass in Business Spaces
Beautiful landscaping is an excellent way to make your commercial property vibrant and stand out from the rest, unfortunately achieving and maintaining eye-catching landscaping with natural grass is costly and labour-intensive. On the other hand, artificial grass in Toronto is an effortless and captivating alternative.
If you're interested in European artificial grass in Toronto, look no further than Echoing Green, exclusive synthetic turf suppliers in Canada of premium quality synthetic grasses manufactured and engineered in state-of-the-art facilities. With our artificial turf, you can be confident in long term performance and put innovation, style, and creativity at the forefront of your landscape design, whether you use it for indoor gym turf flooring, dog runs, rooftops, or restaurant patios.
Here are some smart uses for artificial grass in your commercial space.
Gyms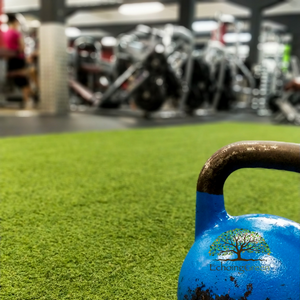 Artificial grass can be used widely in gyms, from the weight section, to the HIIT workout area, or even the classroom. Indoor gym turf flooring is ideal for anywhere that requires jumping, dropping weights, or running. Echoing Green's artificial grass for gyms comes equipped with EchoPlay, an underpadding specifically engineered for helping with shock absorption, so high-intensity and high-impact exercising is safer and easier for members. Not only is there shock absorption, but our indoor gym turf flooring is incredibly durable. Synthetic turf is designed to last over a decade, even with constant, high-impact activity. Echoing Green, your trusted synthetic turf supplier, will ensure that artificial grass in your gym will be a long-lasting investment that your members will appreciate.
Dog Runs
Artificial turf for dog runs is an excellent alternative to natural grass. While we all love our loyal companions, we'll be the first to admit that they do create a mess, especially when it comes to digging holes and kicking up dirt and grass in dog runs. Our artificial grass for dogs, Echo60, is installed without any topsoil and comes with superior drainage, ensuring that there won't be any mud after rainfall. Artificial turf for dog runs gives them the freedom to play without any mess. More so, Echo60 is tougher than most commercial artificial grasses, making it highly durable and long-lasting. If your dog loves to run and romp in the grass, it won't wear out quickly; synthetic turf will look brand new for years to come.
Restaurants, Patios & Rooftops
Have your restaurant look lush and vibrant this summer with artificial grass. Synthetic turf isn't just limited to landscaping and making everyone jealous of your curb appeal, it can be used for many things. Try a unique backdrop and photo wall in your restaurant; this will make your restaurant both unique and the talk of the town. An artificial grass photo backdrop will definitely be popular on social media, which will increase your online presence and attract new visitors.
Aside from a photo wall, try artificial grass on your patio or rooftop; it's stunning and practical. Synthetic turf is more comfortable for wait staff to walk on, especially when installed with EchoPlay. With increased comfort among staff, it'll be a more positive and energetic environment for everyone around. Our artificial outdoor patio turf, Echo80, is able to withstand any weather, from rain, wind, or snow. It's a comfortable, resilient, and innovative design element for your patio or rooftop.
This summer, have your commercial property stand out with vibrant artificial grass from Echoing Green. Our team will help you choose the best artificial turf for your space.