Say Goodbye to These 4 Chemicals When You Switch to Artificial Grass in Toronto
Unlike artificial grass in Toronto, achieving that perfect white picket fence lawn with natural grass is a tedious endeavour. While natural grass in Toronto requires constant time, attention, labour, and treatments, synthetic turf installation requires little to no follow-up to maintain its pristine condition, saving landscapers and property owners the trouble of adding chemicals to their lawn.
Echoing Green is the sole supplier of premium European artificial grass in Toronto and Canada. Our turf offers high-level performance and is equipped with a polyurethane backing which needs zero chemical additives to perform.
When you choose artificial grass in Toronto, you can say goodbye to these irritating and costly chemicals.
Fertilizers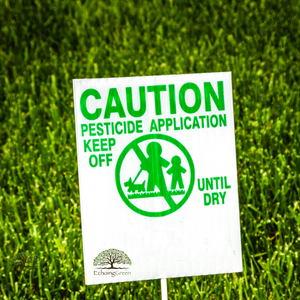 Fertilizers are used to promote the vigorous growth of grass, typically containing harsh chemicals such as nitrogen, phosphorus, and potassium. When fertilizers are used in excess or exposed to UV, they can burn natural turf and cause dead, yellow patches. Even worse, fertilizers can cause irritation, allergic reactions, and even nausea to people and pets upon physical contact. With synthetic turf installation, you won't need fertilizers to keep yards lush or green. At Echoing Green, we supply artificial grass in Toronto that is designed with UV protection to remain vibrant and resist damage from the sun for the entirety of its lifespan.
Pesticides
Like with any natural ecosystem, live grass has the tendency to attract other organisms or insects to the dark and damp environment, specifically ticks, fleas, and mosquitos. These pests often find themselves interfering with gardens, becoming a nuisance to people, and sometimes even making pets sick. However, chemical pesticides can have their own problems. Not only are they costly when used regularly, but they can be interfering with the health of kids and pets too. Pesticides are also infamous for their negative environmental implications, as chemical runoff often infiltrates local water supplies.
On the other hand, artificial grass is free of organic material. When you shop Echoing Green, our turf promotes effective drainage, keeping water away from the surface of the turf. Together, this keeps insects from nesting within artificial grass in Toronto. So when you make the switch, you can leave pesticides in the pest.
Herbicides
As you work hard to make your grass perfect, one measly weed on a nearby property can spell disaster. So those working to upkeep natural lawns typically use herbicides to kill weeds as they pop up. Whether preventative or reactive, herbicide treatments are tedious and can rack up quite the bill. Herbicides can stay in the soil for a very long time. In some cases, exposure has been linked to chronic illnesses in people. When you choose artificial turf, you can eliminate the weeds without harsh chemicals. High-quality synthetic turf installation includes a durable weed barrier that prevents weeds from infiltrating artificial lawns.
Fungicide
Bacteria and mold spores exist naturally outdoors, and natural grass lawns are no exception. After stretches of excessive humidity, mold and bacteria can build up and even travel through the air inside. Mushrooms growing in the grass is a telltale sign of a fungal problem. Fungicide is used to keep mold at bay, but there's no need to spend on it when you opt for artificial grass. Artificial turf from Echoing Green does not facilitate the conditions conducive to mold.
With synthetic turf installation, you can get the lawn you deserve without the work, the costs, or the chemicals.