Reduce Allergy Factors in your Backyard with Artificial Turf
With the arrival of summer in full force, more and more are looking to spend their time outdoors. Whether for outdoor playtime, picnics, barbecues, swimming, or anything in between, the backyard is a summertime favourite. Unfortunately, with the warm weather comes seasonal allergies which can put a damper on summer fun for families and people of all ages. The threat of rashes, itchy eyes, and incessant sneezing can keep you stuck indoors away from the joys of the fresh air and vitamin D. Artificial grass for backyards gives homeowners a solution to the allergens enabled by natural landscaping, allowing more time to be spent comfortably outdoors. At Echoing Green, we supply high-quality artificial turf in Toronto that minimizes the amount of allergens. Our luxury product offers the feel of lush natural landscaping without the drawbacks, with expert installation you can revolutionize your summer.
Read on to learn more about how artificial grass installation can minimize allergens in your backyard.
What Allergens Does Natural Grass Trigger?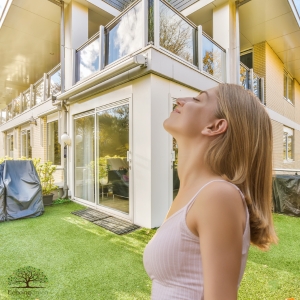 To understand how artificial turf can serve as a saving grace, it helps to explore how natural landscaping contributes to seasonal allergies. Natural grass harbours a variety of allergens including pollen, mold spores, grass clippings, harsh chemicals, and even dust. To make matters worse, grass is often a nesting ground for mosquitoes and other irritating insects that make backyards an unwelcoming environment. Switching to artificial grass for your backyard helps eliminate the elements that cause discomfort and disruption to otherwise pleasant summer days.
Get Mold-Free Landscape
Mold is a tricky substance. While detecting mold indoors can be easy, due to its pungent odour, it's hard to pick up on hidden mold outbreaks in your lawn or landscaping. Mold is naturally-occurring fungus that spreads in through the air. When lawns are wet or exposed to mold spores, outbreaks spread rapidly, causing physical symptoms that are often not detected until they form into mushrooms. Mold in the grass can lead to physical skin and eye irritation, coughing, trouble breathing, wheezing, and stuffy noses/sinus congestion. Beyond the health effects, mold in your lawn can increase your chance of mold infestations in your home, which are notoriously difficult to eliminate. By making the switch to luxury artificial grass from Echoing Green you can minimize your chances of mold-induced allergies. Our high-quality turf is designed without the need for any organic materials and built to drain water effectively, eliminating two main factors that attract mold.
Say Goodbye to Pollen & Grass Clippings
Pollen and grass clippings are common triggers for allergies, causing discomfort and symptoms such as sneezing, itching, and congestion. Natural grass releases pollen into the air, especially during the warmer months, which can easily be inhaled and irritate the respiratory system of allergy sufferers. Additionally, grass clippings left on the lawn after mowing can become airborne, exacerbating allergies. Artificial grass installations offer a solution to these problems. Since synthetic turf doesn't produce pollen, the main source of airborne allergens is eliminated. Furthermore, without the need for regular mowing, there are no grass clippings that can cause allergic reactions. By switching to artificial turf, individuals with allergies can enjoy their backyard without the constant worry of pollen or grass clippings triggering their symptoms, creating a more allergy-friendly environment.
Upgrade Your Backyard Experience with Artificial Turf
With the experts at Echoing Green, you can enhance your summer experience by taking control of your surroundings. Our industry-leading artificial grass enables a realm of possibilities. To learn more about installing artificial turf on your property, contact us today.