Pros and Cons of Having An Artificial Grass Front Lawn In Toronto
Homeowners take great pride in their lawn and garden. Many people spend lots of time and money maintaining their home's appearance and curating a beautiful outdoor space for their family. Unfortunately, lawn care can also be a big hassle. Despite our best efforts, children, pets, and weather can all wreak havoc on grass, resulting in a dry, patchy, dead lawn. Homeowners are now switching to artificial grass installation to solve their lawn care problems. Artificial grass in Toronto is an excellent option for a beautiful and functional front lawn all year long. With minimal maintenance and green and lush aesthetic, artificial turf is a great option for homeowners in Toronto. Here, we have summarized a few of the pros and cons of artificial grass in Toronto.
Pros
Minimal Maintenance
Artificial grass simplifies your overall lawn care maintenance routine. Unlike a traditional lawn, you will no longer need to remove weeds, water, fertilize, or cut your lawn regularly. The only maintenance required by homeowners is the occasional raking of the artificial grass to remove leaves and sticks. With artificial grass in Toronto, you will be able to spend more time enjoying your beautiful lawn instead of wasting time trying to keep grass looking fresh all summer long.
Maximize Aesthetic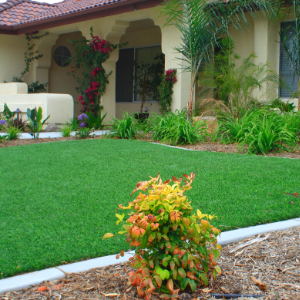 Many artificial grass installation companies offer a "no-fade guarantee." With synthetic grass, you can make a long-term investment in the overall aesthetic of your home and its curbside appeal. Artificial turf can maintain a lush, green appearance year-round and does not experience the sunspots, dead patches, or dry, brittle grass of traditional lawns. You will be able to enjoy your yard throughout the year without worrying about children, pets, or weather killing the grass.
Reduce Allergy Symptoms
Many adults and children are allergic to pollen and grass. This is a significant issue in the spring, summer, and fall when seasonal allergy sufferers are in constant discomfort. Although over-the-counter allergy medication can be helpful, artificial grass installation may provide a more permanent solution to your problems. Unlike traditional lawns, synthetic grass does not release the pollen and fibres that cause allergy symptoms. These usually happen after cutting the grounds, and many allergy sufferers find they are unable to mow the lawn or use the yard following a fresh cut. With an artificial lawn, you can enjoy your front or backyard without aggravating your nasal and airway passages.
Durable and Long-Lasting
Artificial turf is built to last through years of sun and heat exposure and constant foot traffic by kids and pets. Unlike traditional grass, which can get damaged, faded, or killed, artificial grass can survive continuous use and is perfect for families and anyone who likes to spend lots of time outdoors.
Cons
Budget Matters
Just like any home renovation, it can be expensive for artificial grass installation. In general, artificial grass in Toronto can cost between $10 and $14 per square foot. This can be a steep upfront cost, but over time you and your family will be able to save money on lawn care products, water bills, and replacement sod.
Water Flow Can Be An Issue
Unfortunately, artificial grass does not absorb rainwater as quickly as traditional grass. This can increase the risk of flooding following heavy rainfall or rapid snowmelt in the spring and summer. You can install a drainage system into your artificial lawn if you are concerned about flooding, but it will cost extra.
Choose the Superior Artificial Grass in Toronto
At Echoing Green (647-494-4883), we have over 20 years of experience installing artificial grass installation. Our premium artificial grass meets the strictest of European standards and can be installed in front lawns or backyards throughout Toronto. All our artificial grass in Toronto comes with a 10 -year warranty. This year, spend more time enjoying your yard and minimize your maintenance routine with a new artificial lawn, courtesy of Echoing Green.