Manage Outdoor Odours with Artificial Grass for Dogs
From weeds that spread like wildfires and weather that's constantly in flux, maintaining the pristine condition of a natural lawn can be quite the challenge. For dog and pet owners, it's even more difficult. While we all love our loyal pets, they often make a mess on our lawns and landscaping by digging holes or rolling in mud. For dog owners who want to keep a clean lawn despite their pets, artificial grass for dogs is the solution. At Echoing Green, our durable artificial grass in Toronto is equipped with resilience at the forefront, withstanding external elements including our furry friends. In the instance that your pup does make a mess, our team conducts comprehensive artificial grass maintenance, such as turf cleaning and infill top-up.
If you want to know how to manage outdoor odours with artificial grass for dogs, keep reading.
Rinse Grass Regularly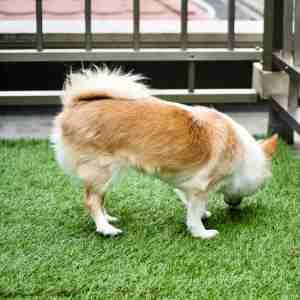 One of the top ways to manage outdoor odours and funky smells from your artificial grass is to rinse it regularly. If you don't rinse it properly, not only will your backyard start to smell, but it may increase the presence of bacteria. While our artificial turf is bacteria-resistant, bacteria may build up if waste is not rinsed away or removed from your turf. You won't need to scrub your turf; you'll just need to spray it with your hose. When you rinse your artificial turf, you won't need to worry about any water lingering. Our artificial grass for dogs is made to facilitate fast and efficient water drainage. For those who would rather have someone else care about rinsing and cleaning their turf, contact Echoing Green for artificial grass maintenance and turf cleaning.
Top-Up Artificial Grass Infill
Over time, infill may become compacted, which may negatively affect its ability to encourage drainage. Without adequate drainage, waste remnants from your canine companion may start to accumulate. Topping off your artificial grass in Toronto with infill from Echoing Green will improve the longevity, durability, and drainage of your synthetic grass. Our premium infill — Envirofill — comes equipped with BacShield technology, which is a key component in keeping bacteria and odours at bay. To ensure your backyard artificial grass stays in perfect condition this summer, top it off with infill from Echoing Green.
Spray with EchoFresh
Once you've rinsed your turf and topped it off with infill, spray it with EchoFresh. EchoFresh is a specially engineered spray that melts and digests organic waste, food byproducts, and other bacteria. EchoFresh creates a healthy and welcoming outdoor environment and neutralizes odours. This summer, to keep odours away, keep EchoFresh on hand.
Disinfect With AquaKlor
AquaKlor is integral to managing outdoor odours on your artificial grass this summer. AquaKlor from Echoing Green is a non-toxic, environmentally-friendly, pet-friendly disinfectant spray that thoroughly sanitizes an area and eliminates potential smells. As much as we love our pets, sometimes, they create an outdoor environment with an unfortunate smell. With AquaKlor, all lingering odours will be gone. AquaKlor simply attaches to your hose and is evenly dispersed, eradicating any bacteria and scent that might be around.
Artificial Grass Maintenance with Echoing Green
To keep your grass fresh this year, schedule artificial grass maintenance with Echoing Green. Our team will guarantee that your turf looks vibrant and smells fantastic.