Key Installation Tips for Artificial Grass for Dogs
Artificial grass for dogs is a game-changer for pet owners in Toronto and throughout Ontario. High-quality pet turf is the ideal solution to the challenges of maintaining a clean and comfortable pet-friendly space. Whether you're tired of muddy paw prints or brown patches on your lawn or just want a clean and safe area for your furry friend to play in, artificial grass in Toronto is the answer. For expert tips from the Echoing Green team on the best artificial grass installation, read on or contact our experts directly.
Where to Install Artificial Grass for Dogs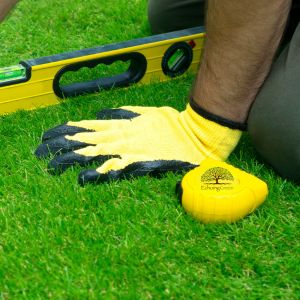 One of the many benefits of artificial grass in Toronto is that it can be installed virtually anywhere, from outdoor spaces and patios to balconies and interior rooms. Before getting started with your artificial grass installation, consider where in your property would benefit from pet turf.
Outdoor Spaces: Installing artificial grass in your outdoor area is a popular choice for dog owners in Toronto. It allows your pets to enjoy a green and comfortable surface without the mess of natural grass. Artificial grass is also durable and resistant to digging, making it an excellent choice for a dog run or play area in your backyard. Plus, it's easy to clean, so you can bid farewell to the perpetual battle against mud and dirt.
Balconies: Living in an urban environment like Toronto often means limited outdoor space. However, if you have a balcony, you can still provide a comfortable spot for your dog with artificial grass. Not only does artificial grass transform your balcony into a pet-friendly oasis, but it also helps with drainage, preventing puddles and odours. You can facilitate proper drainage even on concrete surfaces like balconies with expert artificial grass installation for dogs and Echo Air Drain tiles.
Indoor Spaces: Often to the surprise of pet owners, artificial grass can be installed indoors for your dogs, which is especially useful for small dog breeds or pet owners who live in high-rise condos in Toronto. Indoor artificial grass for dogs creates a cozy and accessible spot for your furry companion to relax and play even in cold weather.
What Type of Artificial Grass to Choose for Pets
When selecting artificial grass for dogs, not all options are created equal. At Echoing Green, we've engineered artificial grass specifically for dogs. Our Echo 60 pet turf is curated to meet the needs of dogs and pet owners.
Short, Dense Fibers: Echo60 boasts short and dense fibres, which mimic the feel of natural grass. Dogs love the texture, making it a comfortable surface for walking, playing, and resting. The short fibres also prevent matting, ensuring the grass retains its lush appearance.
Exceptional Tuftlock: Dogs are known to be active and playful, and our pet turf's superior tuft lock technology ensures that the grass can withstand their activities without becoming dislodged. This durability ensures your investment in artificial grass for your dog will last for years.
Non-Toxic and Safe: Echoing Green's Pet Turf is made with pet safety in mind. It's non-toxic
and free from harmful chemicals, ensuring your furry friend stays healthy while enjoying the outdoors.
Easy to Clean: Toronto's weather can be unpredictable, but Echo 60's artificial grass is easy to clean. Rainwater drains efficiently, and pet waste can be quickly scooped and rinsed away, leaving no lingering odours or stains.
Artificial Grass Installation Tips for Dog Owners
You'll need installation once you've chosen the best artificial grass in Toronto for you and your dog. For a durable and seamless artificial grass installation, choose the experts at Echoing Green. Our team can help you enable years of use, from perfecting the base to artificial grass maintenance.
Whether installing artificial grass outdoors, on a balcony, or indoors, proper base preparation is key to a successful installation. Ensure you have a smooth, level surface, and if needed, add a weed barrier to prevent unwanted growth if you've opted for outdoor pet turf.
To enhance the durability of artificial grass for dogs, it's recommended that pet owners use sturdy edging materials to secure the artificial grass in place. This prevents it from shifting or curling at the edges, especially in high-traffic dog areas. During artificial grass installation, the Echoing Green team will use high-quality materials and a strategic technique to keep each piece of synthetic grass intact, even when used by the toughest dogs.
Artificial Grass Maintenance for Pet Turf
Although artificial grass is low-maintenance, it's helpful to perform regular upkeep. Brush the grass to keep it looking pristine and remove any debris. Promptly clean up after your pet to prevent odours and maintain a clean surface, or contact the Echoing Green for synthetic turf cleaning services in the Greater Toronto Area.
Maximize Your Artificial Grass with Echoing Green
Artificial grass for dogs in Toronto is a practical solution for pet owners seeking a clean, safe, and enjoyable outdoor experience for dogs. By carefully selecting the right type of artificial grass and following proper installation and maintenance practices, you can create a pet-friendly space that both you and your dog will love. If you're ready to say goodbye to muddy paws and hello to beautiful and pet-friendly spaces, contact Echoing Green.