Keep Pet Turf In-Tact with These Tips
While our pets are beloved members of the family, they often have a mind of their own. Their inclination to dig, tear, and chew at the most beautiful furnishings and home additions can be an understanding cause for hesitation that many pet owners face when looking to install artificial grass indoors or outdoors. Despite the many benefits of pet turf, there is a lingering question of what happens when your relentless pup gets to it. With high-quality artificial grass for dogs from Echoing Green, you don't have to stress about your dog tearing up your newly installed synthetic landscaping. Using smart installation and artificial grass maintenance tips, our durable pet turf will withstand the toughest dogs.
Here are some of our tips for keeping your pet turf intact.
Choose a Durable Product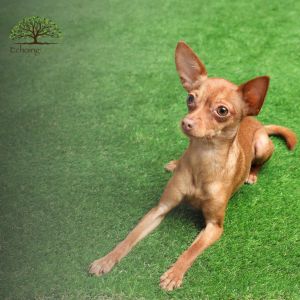 There are many variations of artificial grass available on the market, but not every option is created equal. Artificial grass in Toronto from Echoing Green is engineered to meet strict European standards for long-lasting performance and durability. Our specialized artificial grass for dogs is designed to be used for dogs and offers the same longevity as our other turf products. This includes short, densely packed fibres and a strong polyurethane backing that provides an extreme hold for the ultimate tuft lock. The modern polyurethane backing keeps strong artificial grass fibres in place for many years, even with consistent intense use.
Install High-Quality Infill
Infill is a crucial step of artificial grass installation that has many responsibilities. TºCool infill used by the Echoing Green installation team is distributed evenly throughout the installation to improve the durability and performance of your pet turf. The small sand-like beads are pushed to the base of the pet turf, where it keeps fibres upright and creates an added barrier between your pet and the base of the turf, which minimizes wear and tear for long-lasting enjoyment.
Artificial Grass Maintenance
Over time, the amount of infill in your artificial grass will dissipate due to regular use from you and your pets. To get the most life out of your pet turf or artificial grass landscaping, it's recommended that you schedule premium artificial grass maintenance and turf cleaning with Echoing Green. During maintenance, our team will top-up your infill to extend the lifespan of your artificial grass for dogs. Not only will upgrading your infill help the durability of your artificial grass in Toronto, but it will also mitigate pet odours that can occur if the infill is insufficient. For the best-smelling pet turf, ask our team about EchoFresh, our in-house turf deodorizer designed to refresh your backyard grass with a fresh-cut aroma.
Expert Artificial Grass Installation for Pet Turf
The most effective way to pet-proof your artificial grass installation is with the experts. Our team of experienced professionals will ensure that your pet turf is installed to maximize resilience. Using high-quality installation materials, we will secure and fasten your artificial grass so it cannot succumb to pulling, tugging, or clawing. To learn more about artificial grass for dogs, contact our team directly.