Installing Sod vs Synthetic Turf
There are two main landscape turf options to choose from: natural grass or synthetic turf. As the benefits of the latter become more apparent, synthetic turf is as popular as ever. While well-maintained natural grass can be stunning when well-maintained, doing so requires significant time, resources, and energy. Even then, a simple misstep can take the condition of a natural lawn in the wrong direction.
On the other hand, synthetic landscape turf is far more manageable as it offers the busy homeowner met with time constraints and an easy, appealing solution that looks and feels like lush natural grass. Because all the fibres of turf from Echoing Green are synthetic, UV protected, and embedded in an advanced polyurethane backing, the landscape turf stays in optimal conditions even after extended exposure to the sun and external elements.
With the benefits of synthetic turf so clear, most homeowners only consider what the installation process is like? Artificial grass installation compares to sod in some ways and differs in others.
Tools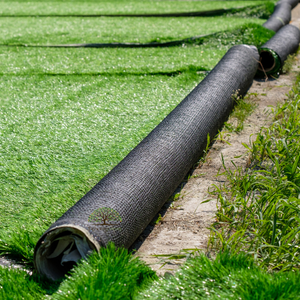 To lay sod, you'll need a utility knife, tape measure, topsoil, sod roller, shovel, leveler, and stakes. For synthetic turf installation, you'll need a utility knife, turf tape and glue, stakes, nails, staples, and infill.
Preparing the Base
Sod: To lay sod effectively, the top layer of the earth must be removed and leveled, including plants, weeds, rocks, or anything else that may be on top of the dirt. It's general practice to dig at least 15cm deep or the depth of your sod, then add any additional soil if the quality is not ideal. Before laying a roll of sod, most homeowners will add a special fertilizer to facilitate the growth and health of the grass.
Turf: Landscape turf can be installed on concrete and other pavements in addition to dirt, as long as holes are drilled into the pavement to enable drainage. If you opt to install landscape turf on the ground itself, you'll have to dig out the first layer of soil and install the weed barrier. Unlike natural grass, a weed barrier is a long-term solution to prevent invasive plants from penetrating your lawn. The one-time solution eliminates the need for pesticides or expensive chemical lawn treatments.
Laying the Grass
Sod: Sod is rolled in its designated area from one end to the other, cut to precisely fit into uniquely shaped spaces. Sod must be cut and moved carefully, as its base is crumbly, and the shape can easily be altered. Once laid out correctly, it can be secured with stakes.
Turf: Like sod, synthetic turf is rolled out in the allocated areas of the property, where it is secured through seam tape that blends the ends of each roll together for a cohesive finish. It is also fastened into the ground with staples and stakes to maximize longevity.
Finalizing the Installation
Sod: After the sod is installed, it requires extensive and specific aftercare. Walking on new turf should be avoided for at least one week. And for up to 3 months, it demands watering every other day. And after exceeding a length of 10.5 cm (3.5 inches), it should be carefully mowed, not too short.
Turf: Once installed, infill is carefully dispersed in between landscape turf, enhancing the functionality of the turf and lifting the blades of grass. Infill contributes to the texture, feel, and appearance of synthetic turf. Once brushed evenly on, your turf is ready for use.
Leading Artificial Grass in Toronto from Echoing Green
While you can order our synthetic landscape turf online and all the necessary equipment, you can also contact our professional artificial grass installation team. Our team will carefully install synthetic turf as you wish, so it is securely fastened and lasts many years.
Contact us today to learn more about your landscape turf options.