Indoor Synthetic Turf Uses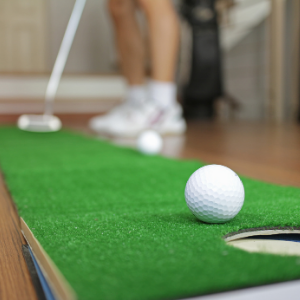 When thinking of uses for indoor turf, people often think of large commercial spaces with indoor sports fields or recreation areas. But in reality, there are many more unique and advantageous uses of indoor turf both inside your home and/or commercial space. Whether it's an indoor putting green, a children's play area or even a home gym, there are many ways to use artificial turf inside your home. Looking for some ideas? This blog will outline different uses of indoor turf.
For Entertainment
There's a common misconception that you should only have grass outdoors, but why restrict people to the beauty that artificial turf can have on inside spaces? For entertainment purposes, weddings, parties, corporate events or trade shows could highly benefit from indoor turf. This is especially true for those who want the look and feel of outdoor space without having to rely on unpredictable weather patterns.
Indoor Putting Green
Another great artificial grass installation is an indoor putting green turf. Whether you own commercial space and want to integrate putting green turf for the public to enjoy, or maybe you're a golf fanatic that wants to practice their swing from the comfort of their own home. Either way, putting green turf is an investment and great use of indoor turf you don't want to miss out on. As well, the indoor putting green isn't limited to a single design. You can curate your own mini-putt course, virtual play area, or turn your entire basement into its own course, the options are endless.
Play Areas
More and more daycares are making the switch to artificial grass for their indoor play areas. That's because high-quality turf is durable and safe enough for children. Synthetic play turf comes with a Playlite underpad that meets the safety requirements for children to minimize the risk of injuries and falls. Not to mention it is an easy surface to clean and drain if accidents happen.
Gyms and CrossFit
Gyms and Crossfit are another great use of indoor turf. With more time spent at home, you may be thinking of designing your own home gym. Artificial turf is a great alternative to regular gym floors with a calming aesthetic. It is durable for high-intensity workouts, weight training, cardio training and more. Echoing Greens Playlite underpad offers a shock absorption feature that is perfect for dropping heavy weights on.
Install Indoor Turf with Echoing Green
Whether you decide to go with a home gym, putting green turf, or a play area for your children, installing indoor artificial turf is never a bad idea. For professional and premium-grade artificial grass, contact the experts at EchoingGreen. Our team will help install, design and create your very own artificial turf haven. Simply give us a call at 647 494 4883 or visit our website for more information.