How to Golf All Year Round with Artificial Grass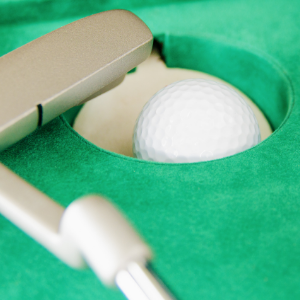 By now, every avid golfer knows that the golfing season is long gone – but all is not lost with an indoor putting green turf. In fact, an indoor putting green is one of the best ways to stay primed and active throughout the winter.
Not surprisingly, indoor putting greens have become quite popular with golf enthusiasts. It's a great way to practice skills and get ready for the next season. Best of all, a personal putting green is open all year round.
The important thing with artificial turf installation is to have the work done professionally. This is the best way to ensure that a artificial grass in Toronto is installed properly. It's also the best way to ensure many years of usage.
Indoor Personal Putting Green Turf
Artificial turf can be installed for both indoor and outdoor applications. Needless to say, outdoor putting greens are limited to more comfortable weather conditions – but with an indoor setup, the passionate golfer can be putting all year round.
A personal backyard putting green is certainly an appealing feature during the pre-season and post-season (early spring and late fall). But nothing quite beats an indoor putting green that's conveniently available 24/7 around the year.
An Indoor Mini-Putt for the Family
All depending on the available space, customized putting green turf can be installed to mimic a mini-putt course for the entire family. Whatever the season, an indoor mini-putt provides hours of family fun for adults and children alike.
For the golfing family, younger children can already start to develop early golf skills as they move their way through the course. And while the experienced golfer might be less enthused, it's still a great way to enhance some game skills.
Golf Simulation / Interactive Golf
For the real golf fanatic, indoor artificial turf can be incorporated as part of a golf simulator. This is an excellent way to realistically mimic a real golf course. Whether it's for off-season training or just plain enjoyment, it's a great opportunity.
With today's WIFI technology, it's also possible to integrate indoor turf with an interactive "golf course". It's an ideal way to spend winter, developing golf techniques, improving skills, and limbering up for the upcoming spring season.
Echoing Green – Echo Pro Putt
For customers in Toronto, Echoing Green offers customized putting greens that look and feel just like real grass. Our unique proprietary product – Echo Pro Putt – provides the true sensation of a real putting green.
Our putting green product has been extensively tested to meet the very highest standards. And with expert artificial turf installation, we design and install the entire putting green layout (with the cups and flags).
The Best Artificial Grass at Echoing Green
Homeowners planning to install artificial grass (outdoors or indoors) can count on Echoing Green for superior quality – products that deliver resilience and longevity – and a 10-year warranty to ensure full satisfaction.
Find out more about Echoing Green by calling 647-494-4883, or visiting the company website at https://www.echoinggreen.ca. We make it easy to arrange for an in-depth project assessment and an accurate quotation.