Improve the Outdoor Experience for Seniors with Artificial Grass Toronto
Like everyone else, seniors deserve to enjoy everything their outdoor space offers. Unfortunately, as we age, keeping up with the maintenance demands and the nuisances of natural grass can add up quickly. Simply cutting grass in the heat during Southern Ontario summers can be incredibly taxing physically and mentally. Making the switch to artificial grass in Toronto improves outdoor living significantly. With Echoing Green's selection of luxury turf, you can go as far as upgrading your outdoor space to build a custom backyard putting green and more.
Read on to explore various ways in which seniors around the city can upgrade their outdoor living with artificial grass in Toronto.
Get Rid of Allergens on Your Property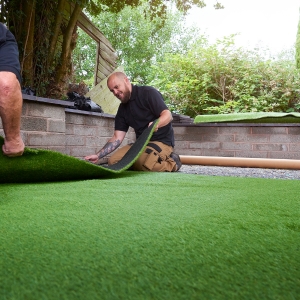 Did you know that with age, you're more likely to develop allergies that are triggered by seasonal allergies like dust and pollen? Studies show that allergies affect between 5-10% of elderly people in North America. As allergy season rages on, pollen in grass and weeds that run rampant through neighbourhood lawns can worsen the experience of allergies, resulting in hay fever and other symptoms. From watering eyes to rashes, exposure to allergens can make going outside a burden that natural grass lawns contribute to. By installing synthetic turf in Toronto, the source of many outdoor allergens is removed. At Echoing Green, our luxury artificial grass in Toronto is installed with a highly effective weed barrier and infill equipped with MicroBan technology that protects inhabitants from pollen-spreading weeds and mould infestations in the ground.
Get Active with Backyard Putting Greens
As we get older, finding new ways to get active and keep our bodies moving is difficult. But a sedentary lifestyle must be avoided. Golf is a game loved by all ages, so it's no wonder why many of the city's senior population are opting to install artificial turf putting greens in their backyard. A custom backyard golf green made with high-quality putting green turf provides an alternative use for outdoor space. Rather than choosing to have demanding natural lawns or landscaping, a backyard putting green enhances the functionality of the outdoor space. Whether you're playing alone and honing your skill or entertaining your friends and family, a little game of mini golf or practice putting is the perfect reason to get out in the sun.
Minimize Maintenance Work
Regardless of how old you are, getting on the ground and pulling weeds out of the ground or pushing a mower through a dense lawn is exhausting, especially during the hot summer months. Artificial grass in Toronto gives seniors an out, so they can be rid of lawn maintenance for good. Our high-performance turf offers natural grass's lush appearance without any drawbacks. There's no need to water, fertilize, or mow your synthetic lawn.
Different Ways to Install Artificial Turf for Backyards
When it comes to artificial grass for backyards, the options are endless. You can get creative and build custom putting greens or Bocce ball courts, replace your existing landscaping or upgrade your wooden deck. To learn what else artificial grass can do for you, contact the leading turf suppliers in Canada.