How Your Entire Family Benefits from Artificial Grass Landscaping
Artificial grass is known for its ability to bring convenience and aesthetic appeal to commercial and residential properties. And while artificial grass is a quality landscaping choice, its installation offers many benefits to families as a whole. There are individual advantages when it comes to artificial grass for dogs, kids, and adults. When you choose a luxury artificial grass installation with Echoing Green you're choosing to invest in your whole family.
Read on to know how your entire family will benefit from artificial grass.
Artificial Grass for Dogs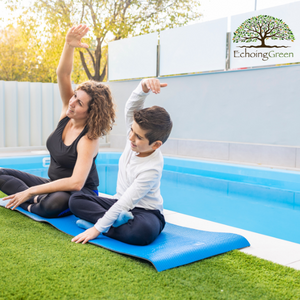 Your pets will love backyard artificial grass installation. Artificial grass for dogs gives them a perfect, soft surface to relax and sleep on. During the summer, natural lawns become hot; sometimes, without rain, they become hard and dry. Because artificial grass from Echoing Green is UV protected, it remains cool for your dog, even on the hottest summer days. Additionally, if you choose a high pile height for your artificial grass, your synthetic turf will be plush and comfortable, suitable for a quick afternoon nap. Even better, if you install artificial grass, you don't need to worry about any potential mess: there's no mud, it has superior drainage, and when sanitization is necessary, AquaKlor is a pet-friendly cleaner that will quickly clean up any mess in your backyard.
Artificial Grass for Kids
Artificial grass in Toronto is excellent to have in your backyard for many reasons, but especially for your kids. Your kids will be able to run around and play without any worry of injury. The shock absorbency of our artificial grass softens the blow of any possible slips or falls, so your kids will stay safe and comfortable while they enjoy and play in the backyard. The durability of our synthetic grass will allow for high-foot traffic, so your kids can have as many friends over as they please, and the turf will remain strong.
Artificial Grass for Adults
Not only does artificial turf benefit your playful pets and children, but it also has many
advantages for adults. Artificial grass is a great choice for those who want an at-home outdoor gym. It creates a comfortable, shock-absorbent, and bacteria-resistant area perfect for weightlifting, HIIT workouts, and cardio. The plush surface of artificial grass is easier on the joints and makes your cool-down and stretching session more comfortable. For those who want to practice their golf skills this summer, consider an artificial outdoor putting green. Rather than drive to the golf course and abide by their hours, install an outdoor putting green and practice on your own time.
Why Choose Pet Turf from Echoing Green
Artificial grass from Echoing Green is easy to clean, durable, non-toxic, and entirely customizable. For those who don't have the time to maintain their natural lawn this summer, consider artificial grass from Echoing Green. There's no mud and no standing water due to excellent drainage. With a high-density weed barrier, there won't be any weeds in your backyard. With artificial grass, your backyard will be vibrant and pristine all year round.