How Turf for Gyms Reduces Unwanted Noise
Artificial grass installation in businesses around the Greater Toronto Area provides many unique benefits that include increased team productivity, reduced workload, and, as a result, improved team morale. In addition to employee benefits, synthetic turf for gyms enhances the entire workout experience for your customers while also making your business more attractive to prospective customers. Soundproofing is one way that artificial grass from Echoing Green can elevate your gym.
Noise at the Gym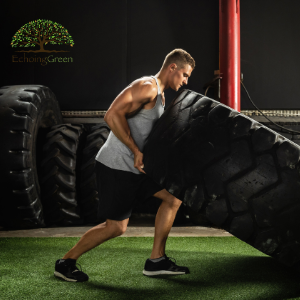 As individuals engage in their personal workout routine or group exercise class, there are many sounds that contribute to a noisy environment. Even with headphones on (which can be a safety issue), loud sounds at the gym can quickly get frustrating. From obnoxious grunting to weight dropping and conversations occurring throughout the space, there's often a lot happening all at once. Turf for gyms can help minimize that surplus of sound in a couple of ways.
Weight Dropping
The sudden clank of free weights against the ground can be quite alarming. But, when engaging in heavy or bodybuilding exercises, sometimes people just can't help but abruptly drop their large and heavy weights to the ground. Artificial grass installation in free-weight zones helps to muffle the sound of weights dropping by softening the surface below. When a weight comes into contact with a hard surface like traditional rubber flooring or hardwood, the impact leads to strong vibrations and loud noises. By softening the impact of contact, artificial grass for gyms absorbs the shock of the falling item and creates less vibrations, thus lessening the sound.
Workout Class
To get a group in a workout class energetic and into the exercise in which they're participating, class leaders usually are loud and encourage high-energy, high-volume responses, especially during Zumba and spin classes. While this motivates the participants, it can be frustrating for other employees and gym-goers. Fortunately, artificial grass has soundproofing qualities that can minimize the transfer of sound from one room to the next. By installing artificial grass around the walls and floor, your instructors can get loud without affecting the people outside.
Custom Turf for Gyms
If you want the benefits of artificial grass in your gym but don't want the idea of green surfaces and walls around your property, you can customize your gym turf with Echoing Green. We offer a range of customization options. You can choose from any colour you'd like. Some studies on colours and psychology suggest that blue is an excellent colour for gym surroundings because it encourages productivity, trust, and stability, compared to red which is considered heavier. If you prefer, you can brand your synthetic turf to match your business or even get your logo printed directly on your artificial grass accents, so when clients make videos and post them to their social media, it'll act as free advertising for your business.
Artificial Grass Installation Toronto
Not only is Echoing Green Canada's leading supplier of high-quality artificial grass, but we also offer trusted installation services in the Greater Toronto Area. With years of experience installing turf in custom applications and various properties, we pride ourselves on workmanship that lasts.
Contact us directly to learn more about our selection of artificial grass or our installation services.