How to Upgrade Your Interior to an Indoor Putting Green
There's really no shortage of amazing things, features, and spaces that can be created with artificial grass. When you have an exceptional product like luxury artificial grass from Echoing Green, transforming your yard and interior space becomes a breeze. One way to use artificial grass to upgrade your property is by building your own custom indoor putting green. Echoing Green's artificial turf for putting greens is an excellent way to practice golf skills whenever you please.
Read on to learn more about building an indoor putting green with artificial grass in Toronto from Echoing Green.
Choose a the Perfect Location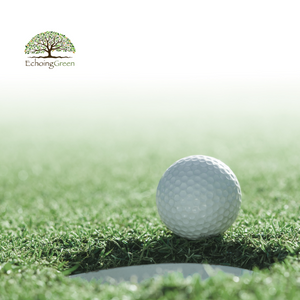 Some of the best areas in commercial and residential properties for indoor putting greens include basements, offices, game rooms, living rooms, break rooms or even a lobby. A popular choice for artificial grass putting greens is within office spaces, from break rooms to lobbies and meeting rooms, indoor putting greens allow for a quick exercise break throughout the work day or a unique setting to engage with clients and business partners. Once you finish your short putting session, you'll have more clarity, camaraderie and focus when you return to work.
Customize Putting Green Shape and Design
When you go to golf courses, you may prefer a different way than how their putting greens are designed. However, when you get your own putting green, the design is totally up to you. At Echoing Green, our artificial grass in Toronto is entirely customizable, from the shape, size, breaks, bends, and even hole locations. This way, you can make your indoor putting green as challenging or as easy as you'd like.
Choose the Best Artificial Grass Available
Not all synthetic turf is meant to be a putting green. The best artificial turf for an indoor putting green has a short pile height and a strong, flexible polyurethane backing that can withstand heavy repeat use. At Echoing Green, our selection of putting green turf: Echo Pro Putt and Echo Pro Putt 70, offers superb performance. The short pile height and dense fibres allow for extraordinary ball roll, so you can practice your short-game.
Design the Topography of Your Putting Green
The best putting greens have bends and mounds for optimal ball roll while still posing a challenge and testing your golf skills daily. If you want your new putting green to be an easy swing, consider a flat putting green. But, if you want something to challenge yourself and anyone else who enjoys the putting green, bends, twists, slight inclines, and declines can be installed strategically.
Install Your Indoor Putting Green Turf
Once you've decided on the location, design, and topography of your new indoor putting green, all that's left is artificial grass installation. At Echoing Green, our experts will ensure that your indoor putting Green is installed securely and efficiently on your property.
Choose Echoing Green for Luxury Putting Greens
Our team of artificial grass experts will work directly with you every step of the way. From designing to installing, our team will help you achieve your vision and install the perfect indoor putting Green. Build a custom putting Green with Echoing Green's premium artificial grass in Vaughan, Toronto, Mississauga, and surrounding areas.