How to Transform Your Backyard to a Pet Paradise
When it comes to owning dogs, big or small, they love to run and roll around on lawns. But, with natural lawns comes many problems, such as odours, allergies, fertilizers, and mud, especially when our loyal canines love to dig holes. To combat these issues and transform your backyard into a pet paradise, use artificial grass for pets from Echoing Green. Echoing Green provides luxury artificial grass in Toronto that revolutionizes landscaping with artificial grass for dogs engineered for long-term performance.
If you'd like to make your backyard an oasis for you and your pet, read on.
Benefits of Artificial Grass for Your Dog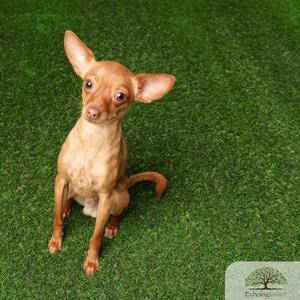 Echoing Green's artificial grass for dogs has many benefits. For one, it's easy to clean — no matter how messy your dog likes to get. Unlike natural grass, you don't need to worry about muddy paws. With a strong weed barrier and polyurethane backing, dirt or mud cannot get through. For other messes, cleaning simply requires hosing the turf or picking up solid waste. Artificial pet grass also has no staining; it's non-toxic and incredibly durable.
How Pets Use Artificial Lawns
Pets are able to use artificial turf with ease — in fact, pets can't even tell the difference between natural and artificial grass. Artificial grass for pets can be used as a playground or bathroom. With UV resistance, the turf stays cool during hot summer days, so your furry friend will easily stay cool while playing and being active in their backyard. The turf is so soft and plush that your pet will be comfortable in their brand-new backyard paradise.
Where to Install Synthetic Grass Landscaping
Our artificial grass is incredibly versatile and has the ability to be installed anywhere. If you have a balcony or large patio, use artificial grass to make the space green and pet friendly. Synthetic turf is easily installed on top of concrete slabs, making your outdoor area comfortable, durable, and easily cleaned. Or, if you want, artificial turf can replace natural grass in your backyard.
Qualities to Look For in Your Artificial Turf Landscaping
When looking for artificial grass, especially for your pets, you need to look for numerous qualities. Firstly, you must ensure it's durable, especially if your pets love to run, play fetch, or dig. Echoing Green's pet turf is very strong and designed to last upwards of a decade, even with wear and tear from your pet. Another quality to look for is weather and UV resistance. Summers in Toronto get hot and humid, so it's essential that your pet stays cool in your backyard or patio. With advanced infill and UV protection on the surface, our pet turf stays cool, making it a comfortable place to relax. Finally, artificial grass has to have good drainage, especially if your pet is using it as their bathroom. Our turf has excellent drainage, so it will stay dry and be odour-free.
Choose European-Made Turf from Echoing Green
When investing in products for your pets, you need to ensure the utmost quality. With Echoing Green's pet turf, we guarantee you and your pets will be happy with your brand-new backyard haven.