How to Take Care of Synthetic Turf for Gyms
Synthetic turf for gyms has proved to be very valuable for those building home gyms or public gym owners looking to create the best environment for their customers. Synthetic turf can be installed in open workout areas, around free weights, classrooms, or even under machines to enhance the aesthetic appeal of the gym, improve functionality, and streamline maintenance and cleaning. While artificial grass from Echoing Green is designed for long-lasting performance with minimal upkeep, you can get more out of your installation with easy synthetic turf cleaning and artificial grass maintenance.
Read on to learn how to take care of your artificial turf for gyms.
Revive Artificial Grass Fibres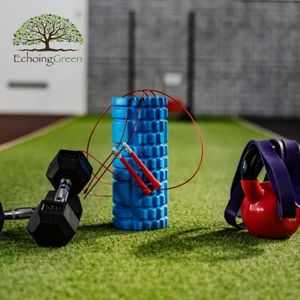 Workouts are, more often than not, high-impact activities. Whether you're jumping, running, or dropping weights, you may notice the fibres of your gym turf flattened down after repeated use. Because artificial grass from Echoing Green is designed with strength and resilience, you can easily lift these fallen fibres. You can broom your artificial grass with a soft bristle brush to revive the fibres for lush, inviting, and lasting effect. Engineered with an advanced polyurethane backing and strong tuft lock, you can count on your high-quality fibres to stay in place after years of use.
Eliminate Bacteria & Viruses
Hardcore workouts, whether cardio or heavy weightlifting, can induce a lot of sweating. As people sweat across your facility, you may notice odours regardless of the type of flooring you use. When you opt for synthetic turf in your gym, you can better control bacteria and odours. Upon artificial grass installation, Echoing Green uses top quality infill equipped with IO BASED Antimicrobial, BacShield® that wards off mold and bacteria development. Using the AquaKlor, a specialty artificial grass sanitizer, you can easily spray your artificial grass to eliminate lingering viruses and bacteria for safer use.
Clean Up Spills & Messes
Not everyone working out is drinking water. Protein shakes, smoothies, sports drinks, and other liquids or snacks are common in a gym setting, but they can be messy when the occasional accident occurs. Due to their sugary nature, you'll want to clean up spills sooner rather than later to keep insects and bacteria away from your gym turf. Artificial grass is easy to clean, and soapy water, rather than heavy detergents, will loosen and lift residues on your artificial grass, which makes cleaning as simple as wiping with a wet cloth.
Remove Pet Waste
If your gym turf is installed outdoors, you may occasionally find animal waste or pets in and around your artificial grass. A buildup of organic matter in any situation can lead to unpleasant odours, and while your artificial grass infill can fend off odours, waste and organic debris should be cleaned up regularly.
Synthetic Turf Cleaning with Echoing Green
Artificial grass from Echoing Green is engineered and installed to maintain its luxe and lush finish with minimal effort. But to extend the lifespan of your synthetic turf and maintain its cleanliness, you can sign up for expert artificial turf cleaning and maintenance services from Echoing Green. From decompacting to infill top-ups, you can count on years of high-level performance for your gym turf.
Talk to the Echoing Green team directly to learn more about our selection of artificial grass and maintenance services.