How to Stop Playground Injuries with Synthetic Turf for Daycares
When building a fun and exciting playground, the top priority is a safe design. Thousands of kids visit emergency rooms in Canada as a result of playground injuries, so it's unsurprising that parents and caregivers are looking for a way to let their children enjoy the fun of monkey bars and jungle gyms while simultaneously mitigating the risk. While it's difficult to control how kids act one hundred percent of the time, artificial grass for playgrounds adds a layer of safety to minimize injuries.
Typically, play areas are covered with sand, mulch, wood chips, rubber, sometimes even asphalt, all of which are abrasive. In many cases, specially designed playground synthetic turf for daycares, schools, and parks is a more effective option. Echoing Green supplies kid-friendly playground synthetic turf for daycares, backyards, and anywhere in between.
Here are 3 ways artificial grass can reduce playground injuries in Toronto.
Slips & Falls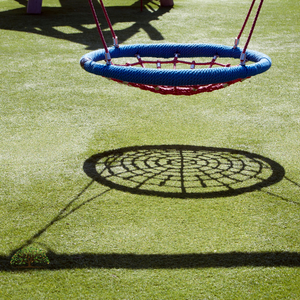 The leading cause of emergency room visits for kids are slips and falls. While this type of injury can happen anywhere, in 2016, 7% of admissions resulted from a fall at a playground. Sand or wet pavement easily causes a slippery surface on which running shoes or bare feet have trouble gaining traction, easily resulting in a slip.
Artificial grass for playgrounds from Echoing Green is designed with an advanced polyurethane backing that filters waters to keep the surface dry and puddle-free after bouts of rainfall or even snow. While natural grass often ends up saturated, synthetic playground turf enables drainage, especially when installed strategically.
Softening Blows
In many cases, falls are inevitable, especially for daring children who want to test their limits down fast-moving slides or high-reach monkey bars. Injuries like fractures, bruises, and muscle strains often present themselves depending on how someone hits the ground when they fall, slip, or trip. Artificial grass for kids is installed with a padded underlay that cushions the surface of the turf. As opposed to dense sand or concrete, the thick underpadding softens the blow during falls, absorbing shock, either avoiding injuries or minimizing their extent.
Cuts, Scrapes, and Bruises
When kids fall on rough, abrasive surfaces, it's not uncommon for cuts, scrapes, and bruises to occur, which can be painful, scarring, and frustrating for kids and caregivers alike. Most likely to happen on playgrounds with sand, pavement, or mulch/wood chips, artificial grass is a soft surface that is not likely to break the skin. Additionally, artificial grass for playgrounds from Echoing Green is installed with bacteria-resistant infill and no organic materials, which can help prevent infection to open cuts.
Echoing Green will provide professional installation for synthetic playground turf for daycares, schools, backyards, and parks to ensure that you get the most out of your artificial turf. If you are DIY-ing your artificial grass installation, you can shop our online artificial grass store for kid-friendly turf and install accessories.
Contact us today to get an estimate for your project.