How to Secure Artificial Grass in Toronto During Installation
One of the qualities that make artificial grass in Toronto so attractive to homeowners in the city is its longevity. Whether you're replacing natural grass in your yard, upgrading your balcony flooring, or customizing your very own artificial grass putting green, you'll want the turf to last. There are two factors that influence the lifespan of your turf. One is the design of the actual turf itself, the other is the effectiveness of the artificial grass installation.
When you choose artificial grass from Echoing Green, the quality of the turf will already meet the criteria for longevity. Our selection of residential turf is engineered according to high European standards, designed with advanced polyurethane backings to withstand the Canadian climate, and equipped with strong, durable fibres that withstand daily use.
Here is what you need to know about artificial grass installation to extend the lifespan of your turf.
Common Artificial Grass Installation Problems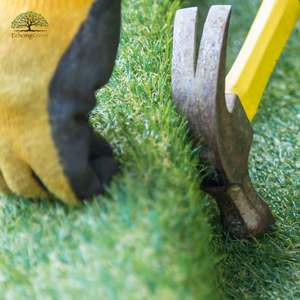 When artificial grass in Toronto is not professionally fastened during installation, homeowners will quickly notice edges of the turf raising or curling. You might also see the middle of the turf bubbling and splitting. When artificial grass installation isn't done correctly, sections of the turf can separate, or water can get trapped underneath it. If you're looking to upgrade to artificial grass in Toronto, it's best to reach out to the Echoing Green team for expert installations that stand the test of time.
How to Secure Artificial Grass in Toronto
Most of the problems that come with improper artificial grass installation result from ineffectively fastened turf. Artificial grass is installed in rolls and cut custom to fit the space in which it's being installed, so it's essential that the appropriate tools are used to achieve a seamless, durable finish. In addition to a full range of artificial turf, you can shop artificial grass installation accessories online from Echoing Green.
Seam Tape & Glue: Seam tape and turf glue connects adjacent pieces of turf for a cohesive finish. This allows for a front lawn to look cohesive and whole. Seam tape is also waterproof, keeping water from entering beneath the surface of the turf, which prevents bubbling and lifting. Specially designed turf glue is a climate-resistant adhesive used to hold artificial grass together and in place. High-quality glue for artificial grass installation is designed to withstand the freeze-thaw cycle of Canadian winters to prevent cracking or deterioration of the turf or the glue itself.
Staples & Spikes: Staples and spikes are crucial components in fasting artificial turf during installation. These devices ensure that artificial grass in Toronto stays in place for years when done properly. Staples are used as an additional point of security between the seams of turf. On the other hand, spikes, usually 10" and spiraled, fasten artificial grass to the ground preventing sliding, lifting, or other unwanted shifts.
If you're interested in artificial grass for your home, you can maximize its benefits and extend its lifespan with high calibre, professional installations. Choose Echoing Green for all your artificial turf needs.
Contact us to schedule a consultation and get started on your new lawn.