How to Protect Your Pet's Paws with Artificial Grass
Summer is right around the corner, and hot weather means more time spent outside. While we may love hot days, our pets may not. Hot concrete risks burning their paws, and natural grass is full of pesticides and fleas. To protect your pet's paws this summer — and for years to come — visit Echoing Green for artificial grass in Toronto. Our artificial grass for dogs is the best way to keep your pet cool and comfortable.
Keep reading to learn more about how our artificial grass for dogs helps keep your pet healthy and safe, especially during the hot summer days.
Avoid Scrapes and Bruises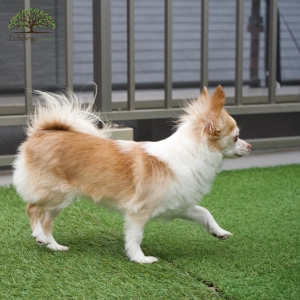 Concrete, asphalt, and wood may result in scrapes and splinters for your pet. Scrapes are especially common when playtime gets a bit too intense. With artificial grass for dogs from Echoing Green, you can say goodbye to cuts, bruises and splinters. Artificial grass is soft and durable, perfect for when your pets want to play and run around.
No More Broken Nails
Broken nails are common for dogs, especially when they start running around a lot on concrete or asphalt surfaces. If your dog loves to run or play fetch, artificial grass will keep nails intact. Our luxurious European artificial grass in Toronto is soft and plush, so your pet's paws will be protected from hard surfaces. In addition, because there are no weeds or roots with artificial grass, there's no risk of your pets' nails being caught in anything. They can run freely and safely with artificial grass.
Paw Pads Are Cool and Protected
When your furry friends walk on hot surfaces, like concrete or wood, it may result in burnt paw pads or blisters. Dog and cat paw pads are sensitive, so you need to be cautious about when they walk on asphalt or concrete. If your backyard has concrete pavers, your pet may be uncomfortable and very hot when the sun shines. This summer, avoid burnt and blistered paw pads with artificial grass. Artificial grass provides your pet with a safe and cool place to lounge or play. Echoing Green's synthetic pet turf has UV protection that remains cool, even on hot summer days. Besides UV protection, our turf also has a natural silica infill, which helps bring down the temperature. With artificial turf from Echoing Green, your pet will be able to enjoy your backyard without hurting their paws.
Additional Benefits of Pet Turf for Your Dog
Artificial grass has many other benefits for your pets. For one, since no more pesticides are needed, your pet isn't at risk of ingesting or inhaling these dangerous chemicals and toxins. When animals come into contact with pesticides or herbicides, it may make them sick. While you may use pesticides to keep your backyard weed-free and vibrant green, you don't need to do that with artificial grass. Another key benefit is that your pet won't have any more seasonal allergies. Some dogs may experience seasonal allergies from pollen, which may cause sneezing or licking the paws and skin. There's no organic presence with artificial grass, so pollen and ragweed won't be an issue.
This summer, protect your pet's paw pads with artificial grass from Echoing Green.