How to Minimize ER Visits with Artificial Grass Installation
When we take our kids to parks, schoolyards, or even the backyard, the goal of jungle gyms and play apparatuses is to have fun, encourage creativity, and get exercise. Many caregivers often don't realize until it's a problem is the dangers of slips and falls on playground turf until it's a problem. Data from the Canadian Public Health Association shows that falls accounted for 44% of hospital admissions in children, of which 7% originated at a playground.
The solution is not to stop playing outdoors but to create safe playgrounds, and artificial grass installation in Toronto can help. Echoing Green is a nationwide supplier and installation provider of advanced and exclusive artificial grass. Whether you're looking for backyard turf or playground turf, we have artificial grass for you.
Here's how you can reduce playground hospitalizations with artificial grass installation.
Slips & Falls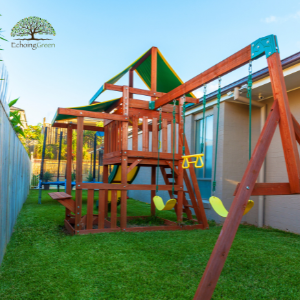 Most playgrounds are situated outdoors and exposed to the elements. As rain accumulates on metal play fixtures or rubber flooring, the ground will become slippier. Poorly designed flooring will leave that water accumulating on the floor, creating a slick surface that is easy for playing children to slip or fall on when not paying attention. Synthetic playground turf from Echoing Green is designed with a porous backing that pairs with the Air Drain Echo Tile. Your artificial grass installation will enable enhanced drying and drainage.
Artificial Grass Underpadding
What causes an injury, be it a bruise or a broken bone as a result of a fall, is the impact. The severity of an injury will vary depending on how high a fall is occurring and the shock-absorbency of the ground material. Typical playground flooring materials like sand, rubber, mulch, and pavement are not especially shock absorbent, leading to injury. To reduce the impact of accidental falls and prevent harm, at Echoing Green, we use advanced under padding - EchoPlay, which is a specially designed shock-absorbing foam with a 4ft to 8ft fall rating.
Proper Installation
The quality of your artificial grass installation can entirely determine how safe it is to play on. When opting for playground turf, it's best to find an expert artificial grass installation service. At Echoing Green, our team of experienced installers can execute a high-quality artificial grass surface free of hazards in a short period of time. When installing synthetic turf for your playground or any space, each piece of turf must be appropriately secured to one another and to the ground. During installation, each nail and spike should be well-fastened and undetectable as you walk through the grass. If nails or other installation materials are not discreet, they can be a tripping hazard.
Artificial Grass & Echoing Green
Echoing Green is Canada's artificial grass leader, from premium products designed and manufactured in Europe to careful and long-lasting artificial grass installation. If you're considering upgrading your commercial or residential property with artificial grass, Echoing Green offers an array of custom options. Choose from colours, lengths, and styles to find the perfect fit for your needs. If you're not sure which artificial grass is best for your property, we can help.