How to Make an Indoor Putting Green at Home
An indoor putting green is a great addition to any home in the Greater Toronto Area, especially as winter and cold weather approaches. Artificial turf in Toronto from Echoing Green is engineered for versatility allowing you to customize and install it in virtually any location for outdoor fun from the comforts of your home. You can DIY build an indoor putting green or reach out to the Echoing Green team for high-quality artificial grass installation.
From indoor putting green turf to installation, you can count on the Echoing Green team for help.
If you're ready to build an indoor putting green at home, read on.
Find the Best Indoor Putting Green Turf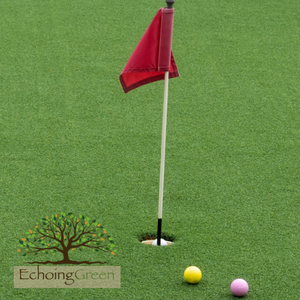 Not all artificial turf in Toronto is designed to be a golf green. The best indoor putting green turf is one that enables seamless play. At Echoing Green, we stock two exceptional artificial grasses, Echo Pro Putt and Echo Pro 70, both designed with densely packed high-quality fibres tucked securely into a high-performance polyurethane backing. Both of our putting green turf options enable exception ball roll to mimic the play of an actual golf course putting green. Once you select the putting green turf of your choosing, it's time to start designing your synthetic golf green.
Indoor Putting Green Design
Good putting green play comes down to its architecture. The best putting greens are speedy with smooth ball roll and offer the player a challenge while still maintaining an element of fun. When choosing your indoor putting green design, there are a few primary factors to consider. The first is the shape of your putting green, the second is its topography, and the third is your hole locations. If you're unsure of how you want to design your indoor putting green, the artificial grass putting green team at Echoing Green can help. With years of experience designing residential turf putting greens, our team can offer best practices to maximize your golf fun. After you've nailed down your design, your final step in making your perfect home putting green is installation.
Artificial Grass Putting Green Installation
While some homeowners opt for a do-it-yourself approach to artificial grass installation, many choose to book their indoor putting green installation with Echoing Green. Our team is known for their high-quality workmanship on a myriad of artificial grass projects throughout the city. Before laying the turf, you can choose where you want to install your artificial turf in Toronto. The favourite spot for an indoor putting green is typically the basement in residential properties because of the ample space. However, you can choose other areas of your home like a bedroom, home office or living room. When your putting green is finally in place, you will get cups and flags to place in the holes to complete the authentic golf course aesthetic.
Start Playing with Artificial Turf in Toronto
After your indoor putting green is installed, all there's left to do is enjoy. Practice your putt or play with friends on a luxury artificial grass putting green designed to last for more than a decade.
To start building your home putting green with artificial grass from Echoing Green, reach out to our specialists directly to discuss your project.