How to Know if You Should Switch Artificial Grass Suppliers?
Choosing vendors is essentially choosing a partner for your business. This is true too when it comes to wholesale artificial grass suppliers. The right partner will enhance your service offering and facilitate business. Ultimately, you should be totally pleased with your artificial grass suppliers in Canada, from the products through to the customer service. It might be time to upgrade when your current wholesale artificial grass supplier isn't checking all your boxes. Here are some signs it's time to look for a new provider for artificial grass in Canada.
Artificial Grass Quality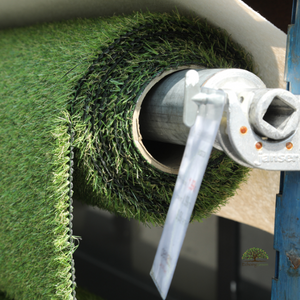 For some wholesale artificial grass suppliers, bulk quantities and wholesale pricing can mean a decline in quality. Purchasing artificial grass in Canada in large quantities should not leave landscapers and designers concerned about the durability and performance of their turf. At Echoing Green, all of our landscaping turf is made in state-of-the-art European facilities designed according to advanced standards for longevity and exceptional performance. When you choose Echoing Green as your wholesale artificial grass supplier, all of your grasses will be UV-resistant, weather-resistant, and permeable for seamless drainage.
Order Flexibility
Ordering wholesale artificial grass should be as simple as possible. No two landscapers have the same schedule, so placing orders of wholesale artificial grass within the confines of a 9-5 business day doesn't always make sense. If you're on a job site or going through your inventory later at night, round-the-clock access to artificial grass in Canada makes placing your supply order convenient by giving you direct access to your wholesale artificial grass suppliers whenever you need it. At Echoing Green, you can order online from any device.
One-Stop Artificial Grass Supply Shop
Artificial grass in Canada is not the only material you need for landscaping. Businesses looking to offer artificial grass installation will require a range of accessories. Sourcing turf from one supplier and artificial grass from another can be quite a headache. At Echoing Green, we are more than just wholesale artificial grass suppliers; we offer every install accessory you need for successful artificial grass installation. You can even mix and match your wholesale grasses to ensure the perfect assortment of supplies.
Artificial Turf Delivery
When you're busy on-site, driving around town to pick up your landscaping supplies is a time drain, a nuisance, and expensive. Wholesale artificial grass suppliers that offer delivery can help you reinvest your time into scheduling more jobs and providing high-level services. When you source artificial grass from Echoing Green, we will have your order delivered right to you, streamlining operations.
Customer Service
Critical to any business relationship is the customer experience. At Echoing Green, we pride ourselves on our ability to connect with your customers and provide them with the tools, supplies, resources, and even the knowledge they need to succeed. We guide newcomers to the Canadian artificial grass landscaping industry with best practices and advice. We even provided installation contracting services for businesses looking to offer artificial grass installation.
Contact our team today to request your free sample box and learn more about switching to Echoing Green for wholesale artificial grass in Canada.