How to Keep Your Play Area Safe with Artificial Grass
Artificial grass in Toronto can be used in many applications, like putting greens, gyms, and playgrounds. Artificial turf is the perfect way to boost the safety of playgrounds. For impeccable playground turf, choose Echoing Green. Synthetic turf designed for playgrounds from Echoing Green has underpadding, infill, and weed barriers to prevent bacteria and weeds and soften slips and falls.
Here are a couple of reasons why artificial grass makes playgrounds safer.
Softens Falls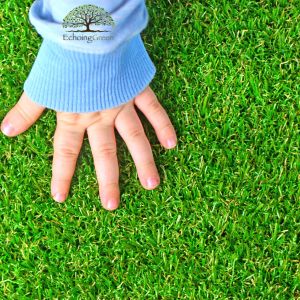 When children run around on playgrounds, falls are bound to happen. However, when playgrounds use mulch, woodchips, sand, or gravel, falling can cause significant pain. Whether landing on a hard surface or getting scrapes and bruises, it's not a good time. Echoing Green's shock-absorbent playground turf, though, softens falls and reduces injury. In addition to infill, we also use a soft underpadding, Echo Play, lessening the blow of any slips or falls. Echoing Green's synthetic turf makes playgrounds safe and fun to use.
No Bacteria
Playgrounds are often full of bacteria and germs. Rather than constantly sanitize, opt for luxury playground turf from Echoing Green. Our artificial grass is easy to clean and free of bacteria, like mold and mildew. In addition, our artificial playground turf is installed with an infill equipped with Microban technology. This prevents the growth of bacteria and contaminants that may result in illness. If anything is spilled on the turf, it's easy to clean with AquaKlor. AquaKlor is a non-toxic, environmentally and pet-friendly turf sanitizer that will ensure your turf is clean and sanitized.
No Toxins
Many use pesticides, fertilizers, and weed sprays to keep natural lawns looking pristine and vibrant. However, these are often filled with chemicals, and the buildup of these toxic products is unsafe around playgrounds. With Echoing Green's artificial turf, there's no chemical treatment needed. Our turf remains vibrant all year round, thanks to its UV protection. A dense weed barrier installed with our turf also prevents any weeds from growing into the turf, so you don't need to spray any harsh weed sprays, either.
No Mosquitoes
In natural lawns or playgrounds with mulch or gravel, water will often pool, which is very appealing to mosquitoes. With synthetic turf, however, mosquitoes will no longer be a problem. Our artificial turf has superior drainage, so there won't be any stagnant water or puddles around the playground. Without water present, there won't be any pesky mosquitoes.
Reduces Allergies
Come spring and summer, allergies are a nuisance, to say the least. With playgrounds surrounded by natural lawns full of dandelions and flowers, pollen is prevalent. The presence of pollen can make going to the playground a negative experience. To minimize pollen in the playground and ensure that everyone has a good time, consider installing artificial grass. Weed barriers in our turf prevent unwanted weeds from infiltrating your turf, reducing the amount of pollen present.
Why Choose Luxury Playground Turf
Aside from keeping playgrounds safe, playground turf has many other benefits. Echoing Green's playground turf is durable, long-lasting, and cool during the hottest summer days, thanks to its UV protection.