How to Install Artificial Grass for Dogs
Artificial grass in Toronto is an excellent addition to any front lawn, backyard, or balcony. With the many placement options available, artificial grass benefits the whole family, even your pets. Installing artificial grass for dogs offers many benefits, including a safe place to play while keeping your turf in good condition. Concerns about your dogs pulling, scratching, digging, or damaging your turf is not a problem with artificial grass from Echoing Green. Synthetic grass is necessary if you want high-quality, luscious green grass.
Read on to learn how you can install artificial grass for dogs.
Benefits Of Artificial Grass For Dogs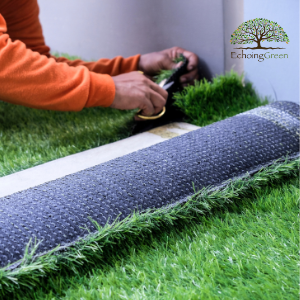 Unlike a regular lawn, the turf is very simple to clean urine or feces. Simply leave the urine, pick up the feces, and rinse away or spray the surface with AquaKlor to quickly remove contaminants, bacteria, odour, and stains. Also, the turf allows for sufficient drainage so that your grass isn't soaked with water afterwards. Artificial grass for dogs ensures your pet has a safe place to do business and play. When dogs sniff, lick, or touch grass with pesticides and herbicides sprayed onto it, it can make them very sick. With artificial turf, you get an even better look with no chemicals, watering, and no need to mow the lawn. In addition, the turf allows your dogs to play rough with no damage whatsoever. Choose Echoing Green for environmentally friendly dog-run turf, indoor turf, and outdoor synthetic grass that can be shaped however you please.
Pet Turf Installation Process
Installing artificial grass in Toronto can be quick and easy when you have adequate information and tools. Although, if you need assistance with installation, our team of technicians is trained and equipped to effectively install your tur so it stands the test of time.
Preparation: Before starting, the base must be prepared for installation. You will need to extract any existing grass or landscaping material, including concrete and bricks. Then, clear the area of any furniture, debris, or equipment. A weed barrier can be laid to fit the size of the turf to prevent weed growth. Next, evenly distribute 10cm of high-performance bedding and level the gravel to slightly slope - enabling drainage. Lastly, wet the area and begin compacting to strengthen the base, enhancing durability when securing the turf.
Lay Turf: Roll out and cut the turf to match the base. Ensure to leave 1 inch of excess grass to have enough material for tucking. Next, prepare the seams and edges and install temporary spikes approximately 1.5 to 2 feet from the seam. You will then want to spike every 1 to 1.5 feet along the length to secure the artificial grass.
Infill Turf: Prepare the fibres by brushing upwards to prepare for the infill. Spread the infill evenly across the entire area and begin brooming the infill. Tip: Never use metal or wire brushes and rakes to comb the turf.
Assess Turf: As you're almost finished, walk around to look for any uneven spots of infill, edges, or seams that are not secured effectively. Once installation is complete, and the glue has cured, the spikes can be removed. Lastly, brush any drooping fibres and lightly rinse the surface to eliminate dust or dirt.
Now it's time for you and your pet to enjoy the perks of artificial turf for dogs!
Artificial Grass & Installation from Echoing Green
Echoing Green is your top choice for high-quality European turf in Canada. From pet turf, to lawns and putting greens, we provide residential and commercial installation services for indoor and outdoor pet turf, so your dogs will always be safe and comfortable.
Choose Echoing Green for safe, green, and soft grass that lasts for years.