How to Get Your Backyard's Artificial Grass Installed Faster
You are ready to make the switch to artificial grass so you can say goodbye to watering, fertilizing, lawn mowing, and tedious upkeep forever. But with summer fast approaching, the lingering questions is: 'how long will it take to install artificial grass in Toronto for your backyard?' If you want your artificial grass installed as soon as possible, hiring an artificial grass installation company is the way to go. You can be soaking up the sun in your dream backyard in as little as just 1-3 days.
Here are 4 factors that can impact the timeline of your artificial turf installation.
Booking Services
If you want your turf installed fast, you need to book fast. In Toronto, artificial grass is becoming increasingly popular, so it's important to book your installation as soon as possible. The best artificial grass companies are likely to get booked up relatively quickly, so it's essential to secure the services of your selected installation company right away if you're looking to expedite the timeline for your custom artificial turf installation. This will provide you with a larger selection of dates to choose so you can best determine what fits your schedule.
Supplies for Installation
If you buy your grass wholesale from one company and hire a different company's services, you may face delays waiting for the arrival of your tools and material. To have your installation completed according to your predetermined timeline, your artificial turf and tools should be readily available before the day you selected for your installation. Waiting for the arrival of essential equipment can significantly delay progress and cause your installation to rapidly veer of schedule. However, when you work with Echoing Green, we supply the turn and installation tools in-house, so we are equipped and ready to provide a fast, quality installation that can be completed in no time.
Accessibility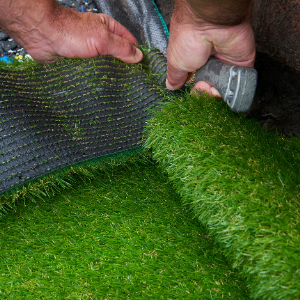 It might seem minor, but barriers to your backyard can slow down the progress of your turf installation. Artificial grass installation teams often find themselves going back and forth from their vehicle to the backyard. If there are stairs, doors, or objects in the way, those short but frequent trips can become longer and more tiring. Clear obstacles and any unnecessary items away from the most direct route to the backyard to facilitate movement happening along that path. It's also beneficial to check if your gates open easily or can stay open. If that's not possible, it may help to temporarily remove your gate.
If you require your installation team to access your yard through your home, then installation may have to wait for days when someone is available at home. If you want to have your artificial grass installed on a weekday and the only way to your backyard is through the house, then it can be a good day to work from home for a few days and watch your backyard transform right before your eyes.
Design
Simpler designs and layouts typically lead to faster installation. Curved edges and uneven surfaces can often require a little more installation time, but that doesn't mean you should forego your custom designs. Instead, chat with your installation team and see how your custom vision of what you want your backyard can be achieved in the allotted timeframe. Consult with an artificial turf company to determine how you can keep your ideas as well as your time frame.
With Echoing Green, we have over 16 colour options available for you to choose from, in addition to unique custom design options that can be installed in a short period of time to create your ideal backyard.
Leverage these tips and team up with the professionals at Echoing Green for long-lasting, low maintenance, artificial turf that you can enjoy all summer long.
Call Echoing Green Today to get Your Artificial Turf Installed This Summer 647 494 4883!