How to Find the Most Real-Like Wholesale Artificial Grass
If you're searching for artificial turf wholesale, whether to stock your supply or your store, not just any wholesale artificial grass will do. There are many styles and types of artificial turf on the market, but the best wholesale artificial grass for every application replicates the look and feel of natural grass.
Here are 5 tips for finding the wholesale artificial grass on the market that best mimics natural turf.
Backings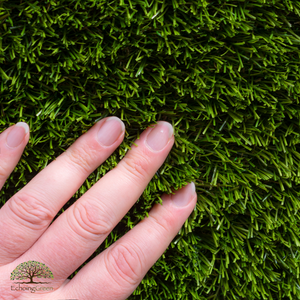 There are two main styles of backing for artificial turf wholesale available: latex or rubber and polyurethane. There are 2 backings on artificial grass the primary backing is latex and the secondary backing is the polyutherane which is sprayed on in liquid form and then it dries. Our grass also has the primary SBR latex backing. It's the added PU coating that makes all the difference.
The problem with traditional rubber backings is many, including its heaviness, rigidity, and inability to adapt to outdoor temperature or environmental fluctuations. Exposed to seasonal changes, latex or rubber artificial grass easily crumbles and deteriorates, leaving the base of wholesale artificial turf uneven and weak. At Echoing Green, we stock artificial turf for wholesale that is equipped with polyurethane backings designed and manufactured in Europe to perform in the Canadian climate. The innovative polyurethane backing is stronger and more durable than older alternatives.
Drainage
Because natural grass is planted in topsoil, a generally maintained lawn usually offers adequate drainage of water from rainfall, snow, and regular watering. So, when property owners opt for artificial grass landscaping, drainage is not something they'll want to sacrifice. You can give your customers high-quality results with wholesale artificial grass designed for superior drainage. The exclusive artificial grass in Toronto from Echoing Green is engineered to facilitate the movement of water away from the surface, even after bouts of intense rainfall.
UV Resistance
The sun is powerful. Ultraviolet light rays emitted by the sun can cause significant damage to the materials exposed to it, ill-equipped artificial grass being one of them. Artificial grass wholesale from Echoing Green is treated for UV protection; this means it fares well in sunlight even after extended periods of time. When you use artificial turf wholesale from Echoing Green, your customers won't have to worry about fading or overheating landscaping turf. The colourfast protection offered by our advanced synthetic turf also locks in the vibrant green colour to stop any running onto nearby surfaces.
Design
The texture when touching or walking on wholesale artificial grass from Echoing Green has to do with the unique design of each individual grass fibre. Unlike American artificial turf for wholesale, the synthetic fibres of European-made grasses are strategically curved from the base to replicate the natural growth of live blades of grass. As a result, the synthetic turf is not only more durable than competing artificial grasses, it mimics the natural movement of grass when used.
Density & Pile Height
The density and height of your turf both contribute to how real or natural it looks. Depending on the application, the most suitable synthetic turf will differ. High-traffic applications typically use high-density turf and low pile heights. In contrast, low traffic areas like gardens or front lawns usually pair best with higher pile heights and lower density turf. When shopping for artificial grass in wholesale quantities online from Echoing Green, you can mix and match your grasses to ensure you have a selection that suits your demand, and we will deliver.
Artificial Grass Wholesale from Echoing Green
In addition to a wide selection of wholesale artificial turf available from Echoing Green, we stock a full range of artificial grass installation and auxiliary products for landscapers, do-it-yourselfers, construction contractors, and supply stores for your convenience.
Want to learn more about our artificial grass products and services?