How to Ensure Landscape Turf Installation is Weed-Free
With natural landscaping turf, weeds around your property are inevitable. No matter how much effort or resources you pour into keeping your storefront, restaurant, office, or other facility weed-free, the unsightly pests just seem to pop up again and again.
If you'd like to maintain a perfectly pristine lawn without the constant intrusion of weeds, then artificial landscape turf is for you. Synthetic grass looks immaculate all year long. When it's professionally installed by the team of skilled landscape contractors at Echoing Green, it's guaranteed to last years without the need for tedious and costly maintenance.
Here's how you can keep your storefront, restaurant, office, or any other commercial property inviting and vibrant with artificial landscaping turf in Toronto.
How to Keep Weeds Out of Your Artificial Grass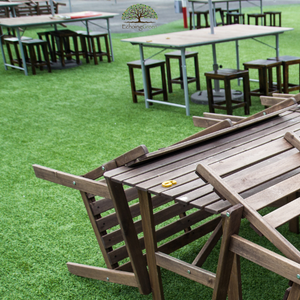 The most effective way to ensure that weeds stay far away from your artificial landscape turf is by installing a weed barrier. At Echoing Green, our artificial grass contractors use a dense weed barrier that strategically separates the dirt below from your artificial turf, allowing for an environment void of organic matter while still enabling effective drainage. As a result, the potential for weeds and other stray plants penetrating your artificial landscape turf is completely minimized, ensuring that your property always looks impeccable.
While the area covered by our premium artificial grass isn't susceptible to weed growth, surrounding areas and gardens are still at risk of the occasional dandelion appearing. If there are any trees, large hedges, or other lush greenery surrounding it, weeds may pop up around the perimeter of your artificial grass. For a cohesive weed-free landscape beyond your artificial grass, keep the neighbouring greenery trimmed and well-maintained.
The Importance of Keeping Weeds Out of Artificial Grass
Businesses have many benefits to keep weeds out of your exterior landscaping. A well-manicured property is more attractive to customers and leaves a positive impression in their minds when visiting your store or offices.
When you install artificial landscape turf around your property, you're essentially removing the presence of pollen and other allergens like mold that come with weeds and live grass. Pollen, especially in the spring, is a massive trigger for people with seasonal allergies. Without weeds lingering around your artificial turf, pollen is gone. Customers can comfortably enjoy your property and visit your business without facing any symptoms related to pollen and seasonal allergies.
Commercial Artificial Grass Installation
At Echoing Green, all of our grasses are designed and manufactured in Europe to outperform competitors and deliver high-quality results to property owners across the city. When you choose installation from the experienced team of landscape contractors at Echoing Green, you can rest assured that your artificial grass installation will be well-executed and keep weeds out for good. And all of our grasses are backed by a 10-year warranty.
Schedule a consultation with our team today to learn more about our selection of artificial landscaping turf and installation services. We'll help you pick out the best artificial grass for your property and your concerns.