How To Ensure Fast Turn Around Time on Landscaping Projects
The faster landscapers can turn around a project, the happier your customers and the more profitable your business can be. Across Canada, where summers are short, landscapers can increase profitability by scheduling as many jobs as possible during the busy season. You can also boost customer satisfaction by completing installation promptly, so customers have ample opportunity to enjoy their new and improved landscaping turf while there's still good weather outside.
Starting with a reliable wholesale artificial grass supplier, here's some ways you can maintain a fast turnaround time on landscaping projects.
Bulk Ordering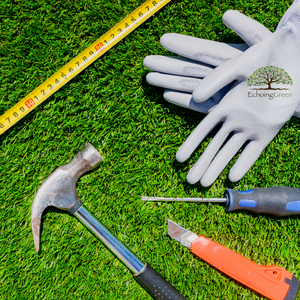 Ordering supplies per job is often tedious and time-consuming. Heading to the store or calling your vendors for every installation job on your schedule can end up costing you time and money. By ordering wholesale artificial grass in bulk, you can skip repeat visits, calls, and order, by keeping inventory of all your essential landscaping products. Echoing Green's online artificial grass store, allows landscapers to purchase artificial grass in Canada in large quantities for easier inventory control.
Delivery
The day of landscapers is often spent on the road, heading from one job to another and to supply stores. If your wholesale artificial grass can be delivered to your office or right on site, you can cut out the time it takes driving around and sitting in traffic to pick up your supplies and drop it off to your office or job site. Echoing Green offers delivery for all wholesale artificial grass orders to streamline installation. Instead you can be onsite, where you can accelerate productivity.
Mobile Ordering
When you're on site, you can immediately assess everything you need to complete a job. Mobile, online ordering, allows you to log into your account or the Echoing Green online store and place an order for artificial grass in Canada immediately, without waiting. This saves admin time and reduces the chance of forgetting to order an essential product or supply. Our online artificial grass store can be accessed from a desktop, smartphone, tablet, or other mobile device.
Sub-Contracting Services
If you're not primarily an artificial grass installation company, but want to offer artificial grass in Canada, enlisting a trustworthy and reputable installation service will enable you to provide the service in a timely manner. In addition to supplying wholesale artificial grass, Echoing Green offers artificial grass installation services to businesses looking for expert technicians. Our team has years of experience, technical expertise, and technology to offer top notch installation that your customers will love. With our team on site, you can significantly reduce turnaround time on your landscaping job for increasing profitability and customer satisfaction.
One-Stop-Shop
Communicating with multiple vendors for supplies for one type of job is demanding from time, personnel, and logistics, it's always easier to find one supplier which stocks all the products you need. It's efficient to source all your installation tools, from infill and under padding to staples and sanitizers from a single source. At Echoing Green, you can find more than just wholesale artificial grass, you can shop our store for your install accessories - all in one convenient location.
Partnering with Echoing Green
The key to increasing turn around time is cutting down by maximizing convenience and flexibility. Echoing Green is an artificial grass supplier you can depend on to streamline everything artificial grass related, from wholesale artificial grass to installation services.