How to DIY Your Pet Turf Installation
Synthetic grass in Toronto is an incredibly versatile addition to any property. It can be used anywhere, from indoor putting greens to vibrant outdoor landscapes or even as soft surfaces for our pets outside. Pet turf from Echoing Green is well-loved among pet owners and their furry friends; its comfortable texture, easy-to-clean surface, and longevity make it an excellent investment that'll make everyone happy for years to come. However, before you reap the benefits of pet turf, professional installation must take place.
Here's a guide on how the installation process for synthetic grass in Toronto works.
Where to Install Pet Turf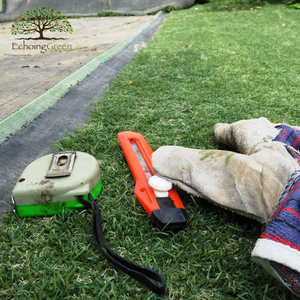 When installing pet turf in or around your property, the options are limitless — you can install it wherever you like. Synthetic grass in Toronto for dogs and cats is able to be installed wherever there is a smooth, flat surface around your property, like your backyard, patio, or even in part of your home. Many pet owners in the city opt for pet turf on their balconies to add a comfortable and convenient zone for their pets. Artificial grass in backyards and patios is also a popular choice; not only does it create a clean and easy-to-maintain environment, but it still provides our beloved pets with a grass-like texture for them to enjoy.
Choosing the Right Turf
When it comes to choosing which turf is best for your backyard, patio, or home, our team at Echoing Green will guide you in the right direction. Our artificial turf is customizable, from design, shape, and pile height. Pile height refers to the length of the grass. The higher the pile height, the fluffier and softer it is. If your pets like to roll or lay on the ground, you may want to opt for a higher pile height. However, if they enjoy running, playing fetch, or staying active in the backyard, a lower pile height may be for you, like our Echo 60. When you decide which turf suits you, ensure that the area where it's being installed is cleared, such as landscaping tools, plants, outdoor furniture, or rocks. This way, the installation process is seamless. At Echoing Green we
Pet Turf Installation
Artificial grass installation is a straightforward process, and when executed properly it will extend the lifespan of your pet turf even after use from the most active dogs. The first step is to create a base. Once the base is created and laid flat in the desired area, the artificial turf must be secured, which is critical in keeping your artificial turf strong and resilient. This includes trimming the turf to the shape of the area, gluing it, and fastening it to the ground with galvanized spikes. Once the spikes and glue have set for at least half an hour, it's time for the infill. Our infill is spread evenly throughout the turf's surface, ensuring it's soft and fluffy for our pets. Infill keeps the turf looking lively, vibrant, and appealing for our furry friends.
Pet Turf Installation with Echoing Green
If you're interested in synthetic turf in Toronto, especially to enhance your pets' lives, look no further than Echoing Green. Our design and installation process is fast, efficient, and completely customized to your taste. To make your backyard or balcony fun for you and your pets, visit Echoing Green.