How to Design a Challenging Indoor Putting Green
An indoor putting green is the perfect home or workplace addition for the avid golfer looking to improve their game. Built with premium artificial grass in Toronto and installed inside, your own custom putting green gives you access to a practice green all year, even through the snowy winters. So, when golf season finally rolls around, you'll be knocking down putts like a professional.
Like with any sport, to really hone in your skill, your putting green should challenge you and focus on the areas of your game which need the most improvement. When building a custom artificial grass putting green with Echoing Green, you can customize all the design choices to best suit your game.
Here are some tips on how to customize your indoor putting green for a real challenge.
Breaks & Bends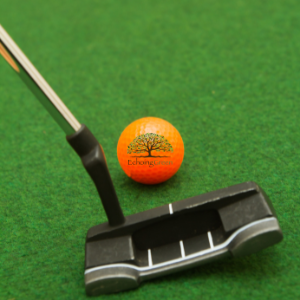 The most crucial skill in a good short game is understanding how to read the greens. When practicing your game at home, you'll want intricate greens with subtle changes in the topography that allow you to learn how to anticipate breaks and bends in the turf, enabling you to adjust your putt accordingly. At Echoing Green, we offer custom putting green design and installation with our high-quality artificial grass in Toronto. We can help you plan and implement gentle hills and dips in your turf for a challenging putting green design that will keep you guessing and prepped for the real thing.
Hole Locations
If you only ever practice one hole location on your artificial grass putting green, you will do better very quickly because you'll be dependent on memory rather than your skill and strategy. By choosing multiple hole locations throughout your indoor putting green, you'll be able to change things up by trying new angles, strengthening your short game effectively.
Add Sand Traps
No matter how skilled you are, every once in a while, your ball will find its way into a sand trap. A ball in the bunker is one of the most frustrating positions you can find yourself in the game of golf. Virtually every golfer struggles to force their ball out of a sand trap. To recover your shot, you need to be able to get your ball out of the bunker and back into play efficiently and effectively, so it only makes sense that you add a sand trap to your own personal putting green. Sand traps are best for large indoor putting greens, but they can still be achieved in smaller spaces, so you can practice mastering the perfect hole location from deep in the sand to impress all your fellow golfers.
Chipping & Putting
Golf isn't all putting or long game. A key part of a successful short game is the ability to chip the ball, whether it's from the bunker, the rough, or the fringe. To ensure your putting green offers you the versatility to chip the ball and practice your wedge shot, talk to the putting green design team at Echoing Green about installing a fringe around your putting green featuring slightly longer grass that replicates the difficulties of an actual golf course.
Artificial Putting Green Turf & Installation
Don't let your golf game slip when the summer is over. Echoing Green offers high-quality indoor putting green design and installation, with premium European artificial grass in Toronto engineered to last more than a decade. It's time to build your custom putting green.