How to Customize Turf For Gyms
When thinking of how to elevate your gym and make it stand out from the others, look into artificial turf for gyms from Echoing Green. Artificial turf for gyms offers patrons an enhanced and comfortable workout experience and will instantly attract new customers. Not only does synthetic grass benefit loyal members, but it also has many advantages for gym owners. From an easy-to-clean surface, custom designs, and high durability, choose artificial grass Toronto to make your gym one of the best.
Here's a guide on how you can transform your gym with artificial grass in Toronto from Echoing Green.
Height and Shape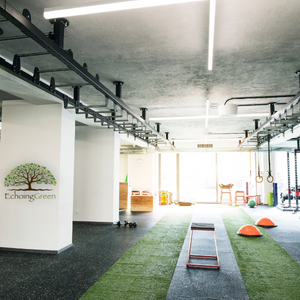 When customizing artificial turf for gyms, you must decide on the pile height and shape. The pile height refers to the length of the synthetic fibres, which plays an integral role in the comfort and function of the turf. While long and short pile heights have benefits and extreme comfort, a shorter one is best for high-traffic areas like a gym. Short synthetic fibres are firmer and more durable, so they're able to withstand more wear and tear than long fibres. Regarding shape, you can customize the shape of your turf to fit any particular area of your gym. To ensure you get the correct shape and pile height for your needs, visit Echoing Green for artificial grass in Toronto.
Designs, Colours, and Logos
Add some colour and unique designs to your gym with custom synthetic turf. At Echoing Green, you can choose from various colours to match your brand and aesthetic. Echoing Green's high-quality gym turf can be customized with your logo or brand emblem to give gym-goers a memorable experience. When designing your gym turf, consider specific designs to enhance workouts. In the HIIT area of your gym, put in lines or markers so members can track their distances while pushing a weighted sled or completing long jumps or lunges.
How to Use Turf For Gyms
There are many ways to use artificial grass in your gym, both indoors and outdoors. In indoor gyms, synthetic turf can be used in all areas. Echoing Green's turf for gyms is strong and durable, so it can withstand weights being dropped on it, constant foot traffic from running, and battle ropes slamming on the ground. For outdoor workouts, synthetic turf is softer than regular grass or pavement, making the running, CrossFit, or HIIT activities more comfortable for customers.
Benefits of Turf For Gyms
In addition to being able to withstand high foot traffic, synthetic turf is low-maintenance, easy to clean, and a safe alternative for gym flooring. Artificial turf from Echoing Green has superior shock absorption, making any exercise easy on the joints and reducing the chance of injury. Compared to other types of gym flooring, disinfecting Echoing Green's synthetic turf is easy and fast with AquaKlor, our non-toxic and environmentally-friendly turf cleaner.
To ensure customers have memorable and optimal gym experiences, consider installing artificial turf from Echoing Green. If you need specific customizations or guidance, the Echoing Green team is here to assist you.